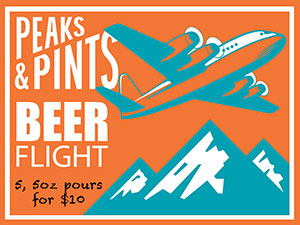 As many of you probably know, Valentine's Day is today. (And for those of you who didn't know and just avoided their partner getting mad at them for forgetting, you're welcome.) Whether you're married, dating or single, gay, straight, bisexual, asexual, a virgin or a stone cold hoochie — you'll need something to do tonight. Hell, we all need something to do every Wednesday night but let's not make ourselves crazy. One Wednesday night at a time. Who needs red roses, Godiva-dipped strawberries and rebarbative Hallmark schmaltz? OK, it's true; we secretly crave all of these things and more. But, because detached ambivalence is our calling card, we'll direct you away from a Valentine's evening of valet parking, symphonies and dance-floor grindations and instead suggest Peaks and Pints Valentine's Night with Kristen Marlo and Georgetown Brewing. Whether you hate love or love to love, everyone can appreciate beautiful, honeyed roots-pop and delicious craft beer. The sweet, sweet happenings begin at 6 p.m., but our Valentine's Day beer flight runs all day and night. So to give you a little peace of mind on this hectic day of love, we present Craft Beer Crosscut 2.14.18: A Flight of Valentine's.
Midnight Sun Panty Peeler
8.5% ABV, 15 IBU
Once called Extreme Polar White Bier, Midnight Sun Brewing changed the name after this Belgian style tripel earned itself a reputation. Light amber with a solid nose of sweet coriander, clove and citrus, Panty Peeler finishes with a mouthful of light bodied, bitter orange and banana.
Wild Ride Nut-Crusher Peanut Butter Porter
6% ABV, 18 IBU
Let's talk love. Peanut Butter. It transports us you to a happier, simpler age. It's not a candy thing. It's a comfort thing. Redmond, Oregon's Wild Ride Brewing brings together two favorite flavors, peanut butter and porter, in this liquid chocolate truffle treat with a strong nuttiness. It's awesome.
AleSmith My Bloody Valentine
6.66% ABV, 32 IBU
AleSmith Brewing Co. releases this amber for Valentine's Day, or "Single Awareness Day," as the label calls the occasion. My Bloody Valentine is a variant of AleSmith's Halloween-time release Evil Dead Red, rated fifth and third on Ratebeer's Amber ranking, respectively. My Bloody Valentine pours a gorgeous crimson with caramel sweetness and floral American hops imparting modest bitterness and muted pine-resin flavors that don't detract from the malt love.
Georgetown Bodhizafa
6.9% ABV, 60 IBU
Ah, Bodhi. Reflecting on this delicious Georgetown Brewing IPA, it's only natural that one's mind would turn to beloved late actor Patrick Swayze, who passed away in September of 2009. Ours did — and the next thing we knew, Peaks and Pints was knee-deep in a pile of Swayze classics: We had the time of our life re-watching P Swayz dance-bang Jennifer Grey in Dirty Dancing; we chugged a Bodhi for the gratuitous boobage and martial-arts stylings of mysterious bad boy Dalton in Road House; we sat through Ghost. But #swayzefest came to its natural conclusion with an evening screening of Point Break. Sure, it's the ne plus ultra of '80s-'90s action cinema, embodying the exaggerated style, swagger and bromantic spirit of the finest testosterone-y fantasies. But this cynical approach only makes that inevitable moment when you suddenly realize this is the best effing film ever made even richer when paired with the 2016 GABF Gold Medal for IPAs, Bodhizafa. The flavor and aroma both express Mandarin and citrus. Five pounds of hops per barrel makes this IPA truly juicy, full of citrus and fruity. We could talk about the ridiculous obsession the Seattle brewery has with the film Point Break. We'll let Bodhi do all the talking, brah.
Block 15 Sticky Hands
8.1% ABV, 110 IBU
Sometimes all you want to do is turn it all off and get quiet and feel the ancient astounding rhythmic pulse of Block 15 Brewing's Sticky Hands double IPA "Hop Experience Ale" take in the aromatic blast of tropical fruits, citrus and dank herbs reality of life and then take a deeper breath and let loose with a quiet delirious firehose of mystic sticky verbal soulgasms as you sip the luscious hop flavor to the balanced bitter finish, gently propped up by pale malted barley and fermented with Block 15's privately banked Brewers yeast of hazy orange love juice and swooning god's breath and swirling lupulin packed hop buds grown in the Pacific Northwest because we are nothing if not all about sucking the fingertips of the passionate hop divine.
---