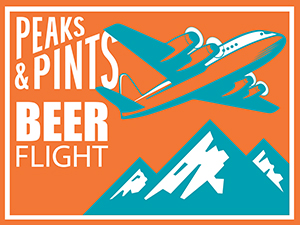 Tacomans awoke to find their cars are being held prisoner in the slushy clutches of residential streets. The light, fluffy snow that fell like crazy this past week morphed into a nasty, oatmeal-ish, wheel-grabbing goo when temperatures broke above the freezing mark and snow turned to rain today. Slush can be just as dangerous as ice because there can be bits of ice in that slush for slippery sliding situations. Also, wind and speed will send giant slabs of ice on the tops of car and trucks into the air. Plenty of back roads are still iced over, especially in shaded areas. PLUS: drivers flipping out when their cars are pelted with snowballs; people are driving while studying their weather apps, and people are towing a spare car in case their first car breaks down. Everyone needs to chill. First, try your best to remember the winter road safety lecture your father gave you when you weren't paying attention. Second, get off the road and head to Peaks and Pints and take the edge off with today's beer flight, Craft Beer Crosscut 2.12.19: A Flight For Sucky Slush.
Craft Beer Crosscut 2.12.19: A Flight For Sucky Slush
Midnight Sun Son of A Berserker
6.9% ABV, 20 IBU
You son of a …! Find solace from the slanders rolling of your tongue with Son of a Berserker! Since Midnight Sun Brewing Company fired up their kettles in 1995, this Alaskan brewery and brewpub has been warming the good folks who braved that last frontier with their multitude of year-round, seasonal and specialty brews. Its Son of a Berserker is a small stout — a second running, usually called "small beer," of Berserker Imperial Stout. This beer displays its complexity from the first sniff; it is a cornucopia of bittersweet chocolate, dark roast coffee, roast malt, caramel, black cherries, plums, figs and a light resiny hop aroma. The flavor follows suit, although the maple syrup and molasses are not overtly noticeable, they do add an additional layer of richness and depth to an already complex beer. Feel the rage wash away.
Rooftop Nitro Tank Ride
8.5% ABV
Tanks, fearsome in battle, are less graceful than penguins when playing in the snow. Leave the M1A1 Abrams in the garage and head to Peaks and Pints for Rooftop Brewing's Nitro Tank Ride instead. Aged for six months in Heaven Hill Bourbon Barrels, this Russian imperial stout takes you through a whole agility-course of complex flavor notes, delivered with the intensity of actually riding in a tank. Wafts of smoky oak and a complex maple-vanilla richness from bourbon aging greet rolls up to your taste buds. Roasted barley and chocolate malts blast accents of smooth dark cocoa. With a warming booziness, this smooth operating RIS drives across the palate with a creamy mouthfeel as you revel in the taste of spiked mocha espresso beans and chocolate-covered cherry cordials.
Founders Backwoods Bastard
11.2% ABV, 50 IBU
You know the drill. Make some beer, quit your job, start a beer business. It's what Mike Stevens and Dave Engbers did when starting the Founder Brewing Company out of Grand Rapids, Michigan in 1997. The road to greatness wasn't easy. There was angst. The duo came face-to-face with bankruptcy before they ditched the unremarkable craft beers switching to flavor-packed, complex brews that are Founders' signature today. That the Backwoods is boozier than its little Bastard brother is only a side note; the big distinguishing factor of this scotch ale is that it is aged in bourbon barrels, with great undertones of vanilla, bourbon, oak and dark fruits. It's smooth and creamy, with the mouthfeel of a milk stout and the body of a scotch ale. Let this sweet Bastard sit for a few minutes for a richer taste as it becomes warmer, reducing the sugar-sweet fresh-out-of-the-fridge impression and replacing it with a complex depth. The alcohol cuts away any aftertaste while dominating the aromatics. Hey, if you're consumed with slush angst we suggest loading up on this beer before retreating to the backwoods.
Matchless Big Dumb Brut
8.3% ABV
Big dumb slush! Big dumb drivers! You need Big Dumb Brut. For Matchless Brewing's second brut IPA, the Tumwater brewery partnered with their next door neighbor, Triceratops Brewing, for a double brut IPA. "This DIPA follows in the footsteps of other silly beers we've made with our brewery soulmates at T-Tops: big, dumb ideas yielding big, delicious beers with the singular intent to entertain. After all, stupid amounts of Huell Melon, Wakatu and Enigma hops supported by brutish quantities of pilsner malt and the cleanest yeast in the land can't be wrong," says Matchless co-founder and head brewer Pat Jansen. It's not your typical brut IPA, but rather a lovely fruity double IPA with melon and dank citrus notes. Big dumb messy streets!
Three Magnets It's All Nice
8.7% ABV, 50 IBU
With all this cold weather and sucky slush, Three Magnets Brewing creates a different type of chill. The Olympia brewery's It's All Nice is a positive, extra chill double IPA brewed with Mosaic and German Hallertau Blanc hops for blueberry and Sauvignon wine juiciness.  Northwest grown 2-Row, wheat, oats and Carapils malts create a pillowy malt base allowing the hops to do their thing. Double dry hopped for your pleasure, It's All Good DIPA is packs a different kind of juice punch. Nice.
---