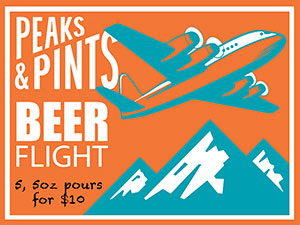 Peaks and Pints presents a flight of IPAs today — Craft Beer Crosscut 12.27.17: A Flight of IPAs. Why IPAs in late December? First, the majority of the world's hops are harvested in late summer, starting at the tail end of August and stretching into September. After harvesting, most hops are kilned and pelletized, a process that can last until the cold-weather months. Brewing a beer when the hops are at their freshest, for the brightest possible hop character, happens to land at the beginning of winter. Second, you can sink into and explore big, diverse hop flavor like you would the malt complexity of a winter warmer. IPAs are capable of helping shake off winter's chill.
Firestone Walker Luponic Distortion Revolution No. 008
5.9% ABV, 50 IBU
Firestone Walker Brewing's Luponic Distortion is a series of craft beers that revolves approximately every 90 days, all of which showcase specific hops. The California brewery keeps a continuous "base beer" and alters the hops that are used with each new version of the series. The eighth and latest edition is made of a blend of eight hop varieties from Germany, Australia, New Zealand and the Pacific Northwest. The lead hops of Revolution No. 008 include a punchy, citrusy variety from Washington state's Moxee Valley, a hop from Hallertau that delivers honeydew and cantaloupe aromas, and a variety from New Zealand that contributes racy tropical fruit notes.
Three Magnets #EBFG Juice
8% ABV, 50 IBU
Clint Dempsey isn't your typical soccer player who hits the tanning salon in between games. Once he's off the pitch Dempsey transforms into rapper "Deuce" and goes back to the hood and spits fire flame bars in the streets, yo. Three Magnets Brewing Co. isn't your typical brewery. The award-winning Olympia brewery drops everything when a soccer game hits its big screen. It makes complete sense; Three Mags brewed a beer to honor the reigning superstar of soccer, Deuce. Three Magnets recently brewed Deuce Juice 2 in an all-out attempt to get Dempsey's attention. Its fruity-and-piney hop profile pays tribute to the places Dempsey has played (Seattle, Texas, UK), and an 8 percent ABV for his international jersey number. It's a five-hop blend — Amarillo, Mosaic, Horizon, Cascade and Chinook — that captures an endless amount of tropical fruit and pine wrapped up in silky-smooth haze. Then, Three Magnets was contacted by Major League Soccer and asked to change the branding. Three Magnets opted to name the beer #EBFG Juice — Eternal Blue, Forever Green — anthem of the independent supporters group for Major League Soccer's Seattle Sounders FC.
Widmer Russell Street IPA
6.3% ABV, 70 IBU
Widmer Russell Street IPA is the first in Widmer Brothers' new "Portland Pub Series," which features beers that have originated in the brewery's 10-barrel pilot brewery, where the innovation brewing team experiments and collaborates to create new beers, perfect recipes, and keep old favorites fresh. Each beer in the ongoing series started as a one-off small batch beer and became popular at the pub. Named for the street that Widmer Brothers calls home, Russell Street IPA is a balanced West Coast IPA featuring Mosaic, Citra and Azacca hops for a big fruity nose with tropical character, grapefruit and orange, a solid biscuit malt backbone and notes of pine resin.
Loowit Shadow Shinobi
7.2% ABV, 75 IBU
Founded in 2010 and established in 2012 by Vancouver residents Devon Bray and Thomas Poffenroth, Loowit Brewing Company help launch a revitalized downtown Vancouver, Washington. Shadow Ninja Rye IPA was one of three first Loowit craft beers released but it took a few hours for anyone to notice because it's a Shadow Ninja IPA. Eventually its deep pine/earth nose aroma announced its presence. You saw it move with earthy hop ninja quickness, with modest sweetness and a touch of rye spiciness … until Friday, March 25, 2017. Shadow Ninja was stalking the downtown Vancouver brewery, because stalking is in its nature, when suddenly something stealthier pulled Shadow's label off. Vancouver illustrator Kyle Shold held up the label and slapped a new one on. Gasps revealed a name change. An Asheville Brewing trademark infringement forced Loowit to change Shadow Ninja IPA to Shadow Shinobi IPA. Same recipe. Different name and artwork.
Deschutes Hop Henge Imperial IPA
8.3% ABV, 90 IBU
Hops don't always taste how you'd expect, especially experimental varieties. Even after they're chopped and dried, you can't be sure how the bittering agent in beer will interact with sweet malt and hungry yeast. For several years, Deschutes Brewery's Hop Henge Imperial IPA has been dubbed experimental – as brewers annually redesign the beer with a different blend of hops, ingredients and techniques. Deschutes brewers folded their white lab coats and stored them. They're so satisfied with this year's Hop Henge that it's being added to the brewery's year-round offerings. Featuring Chinook, Cascade, Centennial and Galaxy hops, this beer is a terrific combo of west coast and tropical hopping.
---