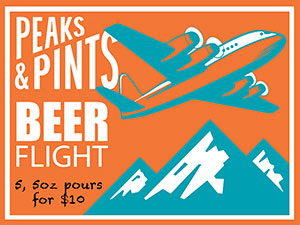 Ginger, nutmeg, cloves, cinnamon and mint. Five glorious-smelling spices that instantly conjure up Christmas, and are used in everything from scented candles to mulled wine. Many of these spices first made their way to Britain in medieval England, when soldiers returning from the Crusades loaded up their bags with exotic and fragrant foodstuffs. Venetian merchants, who had an ideal location midway between the Levant and Western Europe, became the orchestrators of the spice trade, sending boatloads of the edible treasure to the West. At Christmas time a complex bouquet of warm, caressing scents lingers in the air. Whether mulled wine or baked sweet, these spicy smells instantly make one feel homey and cozy. Today, Peaks and Pints presents a beer flight of Christmas spics that we call Craft Beer Crosscut 12.20.17: A Flight of Christmas Spices.
Avery Ginger Sour
6% ABV, 10 IBU
Ginger: Avery Brewing's sixth installment of the Botanicals & Barrels series, Ginger Sour, is a bright, spicy and tart barrel-aged sour ale. The ginger juice, hailed for its cleansing and restorative flavor, is sourced from a local Boulder company, Pressery. The tart, dry component of the sour shines through the spicy and herbaceous character of the ginger. Coupled with months spent aging in oak barrels, this beer is complex and earthy with around awesome complexity, robustness and balance of fruity/funky/acidic yeast, ginger, oak barrel, and moderate bready malt flavors.
Puyallup River Imperial Christmas Cream Ale
8.5% ABV, 20 IBU
Nutmeg: Puyallup River Brewing's Imperial Christmas Cream Ale is a Christmas cookie in a glass. It works like a Christmas candle filling the room with Cinnamon, nutmeg and light toasted piecrust. Even though nutmeg and cloves dominate the taste, this is a well-balanced, well-behaved, spiced strong ale. The booze is fairly well hidden under all the spices.
The Bruery 10 Lords-A-Leaping
10.5% ABV
Cloves: A decade ago, Placentia, California based The Bruery debuted the first in a line of "12 Beers" brewed in honor of nearly 250-year-old "Twelve Days of Christmas" song. The first beer was obvious — A Partridge in a Pear Tree, a Belgian strong dark brewed with spices. Each year, the style has varied, from Two Turtle Doves to this year's 10 Lords-A-Leaping. In lieu of 10 Lords, the brewery has 10 spices "leaping" into this seasonal release: coriander, orange peel, cinnamon, ginger, nutmeg, allspice, mace, anise, dried apples and cloves — with cloves leading the bunch. Overall, the flavor is moderately sweet, wheaty and spiced with minimal bitterness.
Evil Twin Imperial Mexican Biscotti Cake Break
10.5% ABV, 60 IBU
Cinnamon: Jeppe Jarnit-Bjergsø contract brewed at Westbrook Brewing in South Carolina before moving his Evil Twin Brewing to New York City. As he brewed his Biscotti Break imperial stout with vanilla, almond and coffee he drank Westbrook's Mexican Cake imperial stout with cocoa nibs, vanilla beans, cinnamon sticks, and fresh habanero peppers. Then one day Biscotti Break met Mexican Cake and they knew it was much more than a hunch. Soon they became the Imperial Mexican Biscotti Cake Break, an imperial stout brewed with coffee, cinnamon, almonds, cocoa nibs, vanilla and habanero peppers. The result? An even bigger beer. Two dessert beers meeting in one glass could be overwhelming. Not in this case. As the beer warms, cinnamon chocolate and vanilla start to pop. Subtle elements of the two beer threads are far from a challenge to find in each sip. The only thing subtle here is the pepper.
Garage Project Death From Above
7.5% ABV
Mint: Based in a former auto shop in Wellington, New Zealand, Pete Gillespie and childhood friend Jos Ruffell are rock star brewers Down Under. That status transferred to the States a couple years ago when their Garage Project began exporting. Their Garage Project Death From Above IPA combines aggressive, high citrus character of American hops Chinook, Centennial and Citra with the heat and sweetness of Indochine flavors as in mango, chili, Vietnamese mint and lime juice.
---