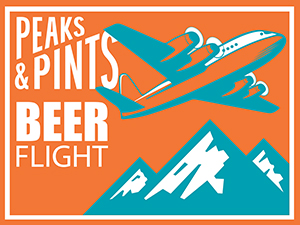 First things first… SNOW. Snow prompts Peaks and Pints to think that the All Mighty, while he may not shoot craps with the universe as Albert Einstein said, at least has a sense of humor. She makes existence uncertain by conjuring up mountain-level snow every now and then, but at no apparently regular interval, and throws in a few earthquakes, ice storms, floods and the like now and then just to let us know who is boss. Now what? Well, the original downhill pioneers damn near strapped entire tree trunks to their feet, doggedly steering them like great monoliths. Those folks laughed and laughed — even though they were working up one helluva rash. Times have changed, and so have the equipment, clothing and attitudes. What hasn't changed is the thrill one feels when the planks are strapped on. Tonight, Peaks and Pints will ask our guests to pray to the mythical Norse God of Snow, Ullr. That's not so odd; when you think about it, as long-range forecasts are calling for a 40 percent probability Washington will see above-normal temperatures through February. 10 Barrel Brewing knows. The Bend, Oregon-based brewery is hosting "Pray for Snow" parties at their brewpubs, as well as hosting the Peaks and Pints Pray For Snow Party at 6 p.m. tonight. In addition to a snowboard and skiing My Ninja Suit giveaways, 10 Barrel will screen their Hold My Beer… winter sports film on Peaks' 130-inch screen. Also, 50 cents of every draft beer sold will benefit students at Gray Middle School, thanks to Communities in Schools of Tacoma. In conjunction, Peaks and Pints presents an all-day snow summon flight that we call Craft Beer Crosscut 11.16.19: Flight For Praying For Snow.
Craft Beer Crosscut 11.16.19: Flight For Praying For Snow
Dru Bru Bruski Patrol
4.8% ABV, 26 IBU
Of course Dru Bru brewed a beer paying homage to the ski patrol — the brewery sits at the base of The Summit at Snoqualmie ski area. This German dark lager has layers of toast, chocolate, and dark caramel malt flavors. A touch of German-grown hops provides herbal and spicy notes to create this easy-drinking dark lager inspired by a Munich-style dunkel.
Kulshan Kitten Mittens Winter Ale
7.4% ABV, 39 IBU
Kulshan Brewing adds four different malts — 2-row, Chocolate, roasted barley and Munich — to Kitten Mittens Winter Ale giving it the rich, medium-bodied winter warmer we adore with a nose of milk chocolate and a touch of brown malt. The body strikes a nice mix of easy malty notes and medium sweet chocolate balanced by earthy hop notes, thanks to the Apollo, Willamette and Fuggle hops. We dig the touch of chocolate liquor on the finish.
10 Barrel Pray For Snow
7% ABV, 75 IBU
10 Barrel Brewing's Pray for Snow Winter Ale uses seven specialty malts and plenty of hops to create a herbal, malty, hoppy brew. Dark copper in color, the Pray for Snow has big malty aromas with hints of caramel, toffee, and spices. The German malt flavor profile with slight roasty notes gives the beer a subtle toffee sweetness balanced with a spicy hop bitterness and slight alcohol warming.
Aslan Hook's Stash
5% ABV, 45 IBU
Aslan Brewing collaborated with Mt. Baker Ski Area on Hook's Stash Pale Ale celebrating the life of former Pro Patrol and Mt. Baker Legend, Randy Hook. Hook was 19 when he started working at the ski area and continued off and on until he passed away in January, 2017 at the age of 67. Spending many of his years in the Pro Patrol, Hook was known for his positive outlook and unmistakable presence on the mountain. Hook's Stash was brewed with American 2-Row barley, hard red wheat, and hopped exclusively with Nelson Sauvin hops. The dryness of this beer accentuates the dank white grape notes that dominate the flavor and aroma.
Crux Mountain Traffic
7.8% ABV, 60 IBU
After a fun day in the mountains, nothing sounds more satisfying than sharing a refreshing pint. And while that long line of brake lights heading back into town may slow your journey toward fulfillment, Crux Fermentation Project's hoppy and malt-forward Mountain Traffic red ale is well worth the wait — robust and bursting with rich, hop flavors and a balanced malt body this easy-drinking, apres-whatever winter refresher will have you seeing a different shade of red.
---
Category:
Beer Line Blog
,
Craft Beer
,
Critical Drinking
,
Crosscut Flight
,
Events and Festivals
,
In The Cooler
,
Mountains
,
Peaks and Pints Lodge Meetings
,
Shop
,
Specials
,
Sports
,
Taps Takeovers