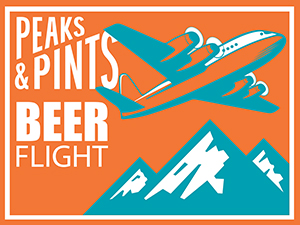 In 1993, Adam Avery launches his Avery Brewing Company in a garage off an alley in Boulder, making him one of the pioneers of Colorado's craft beer scene. At first, consumers were apprehensive when it came to the new tastes Avery introduced to the market place. In 1996, Avery was among the first breweries in Colorado to offer an IPA. Many of the deliveries were returned because the beer tasted too bitter. Pushing the limits in the brewhouse, they began experimenting with barrel aging in 2003 and barrel-aged fanatics throughout the nation seek the results out. Many of the big beers post ABVs of two touchdowns and a field goal. Peaks and Pints presents a three-beer flight of Avery's big beers, which we call Craft Beer Crosscut 11.12.19: Flight of Massive Avery.
Craft Beer Crosscut 11.12.19: Flight of Massive Avery
Avery Mephistopheles
14.666% ABV
The name Mephistopheles originally appeared in literature as the demon in the German Faust legend. According to the story, Faust was dissatisfied with his life and made a deal with the devil, exchanging his soul for unlimited knowledge and worldly pleasures. Mephistopheles appears in this legend as a plain-clothed devil, mirroring the massive imperial stout. First brewed in 2005, Mephistopheles was the third installment of the Demons of Ale series. After creating The Beast Grand Cru and Samael's Oak-Aged Ale, Adam Avery decided he wanted the third demon to be a massive stout unlike any other. One of the most distinguishing ingredients is the beer's Westmalle Belgian yeast strain, which produces layers of esters and phenols that create much of the beer's complex flavor. The grist bill is focused mainly on roasted and black malts making it dark and rich. There is also a small amount of Special B, a specialty malt, added for a touch of raisin-like sweetness. The result is a massive and complex stout with notes of vine-ripened grapes, anise, bitter chocolate and an espresso-like finish.
Avery Double Barrel Maple Stout
15.3% ABV
Avery brewed an imperial stout, aged it in bourbon barrels, then aged it in maple syrup barrels and dosed with coffee, cinnamon, and extra maple syrup for a shimmering black body with a darker beige head. Double Barrel Maple Stout hits the nose with strong maple and wood with supporting earth, bourbon, coffee, and fudge. The flavor continues on this theme — maple, bourbon and wood leading with fudge and coffee jumping up more, but has a sharp infusion near the finish of cinnamon.
Avery Old Grumbler
17.2% ABV
The newest addition to Avery's Barrel-Aged Series, Old Grumbler is a blend of imperial ales aged between 12- and 24-months in rum barrels. The nose is toasted malt, caramel, toffee, oak, and mild rum spice. It has a similar flavor — rich and layered with moderate sweetness and lingering complexities.
---