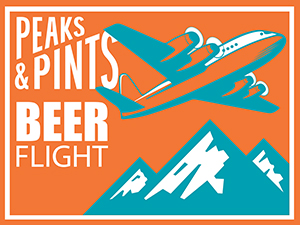 Since Greg Koch and Steve Wagner founded it in 1996, Stone Brewing Co. has been producing an ever-expanding line up of well crafted and often in-your-face beers and interesting collaborations. Stone's gargoyle mascot watches over each of these beers, attempting to draw in their ideal consumer and to scare off the Keystone-swilling undergrad that stumbled into the display. Don't let it intimidate you. Known for its bold, flavorful and largely hop-centric beers, Stone has earned a reputation for brewing outstanding, unique beers while maintaining an unwavering commitment to sustainability, business ethics, philanthropy and the art of brewing. Today, Peaks and Pints presents Craft Beer Crosscut 10.31.18: A Flight of Stone Gargoyle, a five craft beer sample flight of the Stone's gargoyle's favorite beers right now.
Craft Beer Crosscut 10.31.18: A Flight of Stone Gargoyle
Stone Xocoveza
8.1% ABV, 50 IBU
Stone Brewing hosts the American Homebrewers Association Rally — a people's choice-style homebrew competition at their annual AHA Rally in Southern California. During the Rally, attendees have the opportunity to sample beer from dozens of homebrewers and vote on their favorites. The winning homebrewer's recipe is replicated by Stone on a commercial scale, distributed around the country, and entered into the annual Great American Beer Festival Pro-Am Competition. In 2014, San Diego homebrewer Chris Banker won with what would eventually be named Xocoveza for the Holidays and New Year. The inspiration came from Mexican hot chocolate combined with coffee. This imperial mocha stout is brewed with coffee, pasilla peppers, vanilla, cinnamon, nutmeg and a generous amount of Stone's in-house made chocolate.
Drew Curtis/Wil Wheaton/Greg Koch Stone Farking Wheaton wOOtstout
11.5% ABV, 45 IBU
The w00t is back. This year marks the sixth year Stone Brewing's collaborative imperial stout hits the street. Stone Farking Wheaton W00tstout — a now 11.5 percent ABV imperial stout brewed with rye, wheat malt and pecans before being partially aged in Kentucky bourbon barrels — is a collaboration between actor Wil Wheaton, Fark.com creator Drew Curtis and Stone CEO Greg Koch. It's named after Wheaton's annual festival celebrating cross-genre geekdom w00tstock. Expect raisins, coffee and roasted malt flavors with a spicy finish. The booze is evident but for the ABV it goes down easy. Woot! Woot!
Stone Sanctimonious IPA
7.1% ABV
In an act of continued devotion to the divinity of hops, Stone Brewing has established the Hop Worship Series as a lineup of seasonally released India Pale Ales that challenges "Stone's zealous brewers … to take their passion for hops to the next level," according to Stone Hop Worship Series hype. The next Hop Worship beer is Sanctimonious IPA brewed with Amarillo and Simcoe hops. Expect moderate grassy and pine hops with a moderate bitterness, medium bready malt and a dry finish.
Stone ParaXtranormal IPA
7.7% ABV
Here's a ghoulish grog perfect for Halloween night. Stone's ParaXtranormal IPA is draft-only release combining real mandarin orange and pineapple with a more-than-generous addition of hops. Technically, it's a bitter, moderately strong American pale ale that uses its clean, supporting malt to showcase its hop character. London Ale III yeast gives this beer some added body that serves as a jumping-off point for the fruit and hops. It's juicy, ultra-refreshing and of course, hoppy.
Stone 2015 Old Guardian Barley Wine
11.2% ABV, 80 IBU
Barley wines are traditionally hefty brews, but Stone Brewing's is downright excessive. It grabbed a Silver Medal winner at the 2000 Great American Beer Festival, as well as a Gold Medal at the 2002 World Beer Championships. The huge maltiness of this beer is only tamed by an equally prodigious addition of hops, creating a rich, slightly sweet, caramel-hued ale infused with assertive bitterness and bright hop notes, all culminating in a pleasing dryness. This 2015 version hits the nose with floral hops, caramel and light pine. The taste is fruity caramel, not overly sweet light alcohol and a lingering floral bitterness throughout.
---