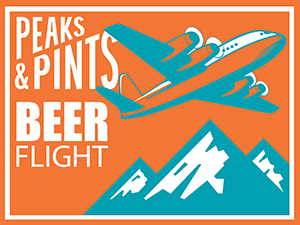 Prepare to be awake for a very, very long time. Spend an hour or two at today's Coffee Fest PNW 2019, an extravaganza of everything muddy at the Greater Tacoma Convention Center, and it's unlikely you'll have a choice in the matter. But once you've caffeinated liberally on joe that's anything but average, you'll be ready for whatever else comes your way — oh, let's say a flight of coffee beers at Peaks and Pints. Mixing caffeine and alcohol is nothing especially new. Beyond Irish coffee and Four Loko, brewers have been slowly working coffee into the DNA of craft beer, too. Java stouts and coffee porters are now as ubiquitous as American pale ales and imperial IPAs. So celebrate all things coffee today in downtown Tacoma and Craft Beer Crosscut 10.15.19: Flight For Coffee Fest PNW in the Proctor District.
Craft Beer Crosscut 10.15.19: Flight For Coffee Fest PNW
Kulshan Oaxacan Sunrise
5% ABV, 21 IBU
Kulshan Brewing's Oaxacan Sunrise is a collaborative effort with Bluebeard Coffee Roasters in Tacoma, Washington and their just re-released Santa Maria Yucuhiti de Oaxaca coffee. This Mexican coffee lager doesn't jolt with coffee, but rather offers subtle notes. In fact, "Subtle" is this crisp lager's middle name with subtle notes of graham cracker, cocoa, praline, cinnamon and plum. Oaxacan Sunrise will be featured at Peaks and Pints Coffee Beer Chat session at 6 p.m. Friday, Aug. 16, in conjunction with Tacoma Beer Week.
Rogue Ales Cold Brew 2.0
5.6% ABV, 30 IBU
Rogue Ales follows up its popular Cold Brew IPA with Cold Brew 2.0 blonde ale. Where Cold Brew IPA plays up the two big bold flavors of hops and coffee, Cold Brew 2.0 explores the intricacies of coffee aromatics and delicate malt notes ending with a smooth, crisp finish. Rogue Cold Brew 2.0 blonde ale employs Stumptown's Cold Brew Coffee, which has been cold-brewed for over 12 hours and double filtered. The coffee arrives immediately, but doesn't dominate.
Hitachino Nest Espresso Stout
7% ABV, 36 IBU
Kiuchi Brewery started brewing sake back in the 1820s. In the late 1990s, the company introduced a line of beer called Hitachino Nest. The iconic label image — a cute, colorful owl — has become a favorite in the craft beer world. There's no mistaking coffee's role in Hitachino Nest Espresso Stout's rise-and-shine aroma: Oily, roasted whole coffee bean scents penetrate the nose. On the tongue, light caramel sweetness paves the way for intense roasted notes and deep coffee bitterness that lasts deep into the swallow.
Abomination White Stouts Can't Jump
9.6% ABV
Josh was an avid homebrewer for 8-plus years with more than 200 different beers plus some commercial brewing experience. Joe was an avid homebrewer for 5-plus years dabbling in all styles. They both thought German purity law Reinheitsgebot was an abomination. They opened gypsy brewery Abomination Brewing to push beer beyond just barley, water, hops and yeast. White Stouts Can't Jump is brewed with flaked oats, flaked wheat, golden promise and lactose before Josh and Joe ferment this hazy white stout on top of vanilla beans, cacao nibs and roasted coffee. It's a winner with a lovely nose of coffee, lactose and a kiss of semisweet chocolate. Expect a smooth, malty flavor with notes of coffee, cocoa, a hint of vanilla and cream.
Narrows Beans Imperial Stout
11.2% ABV
Narrows Brewing Head Brewer Matt Rhodes has brewed another imperial stout winner, this time with a special blend of cereal adjuncts and boiled for an extended amount of time. After fermentation he finished the beer on three different single origins of coffee from Portland's Heart Roasters, including Mexico Miramar, Guatemala Isnul and Kenya Rukira. The result is a thick creamy stout with balanced dark fruit and chocolate coffee character.
---