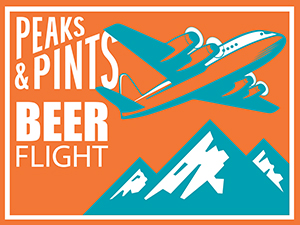 The Seattle Seahawks' road to the playoffs will include a lengthy detour. The Seahawks will play in one of the NFL's games that take place in London this morning, Peaks and Pints time. The Hawks will face the Oakland Raiders at 10 a.m. at the new stadium of the English Premier League's Tottenham Hotspur soccer team in north London. Seattle will be the designated "road" team, meaning the Seahawks did not give up one of their eight home games for next season. In celebration, peaks and Pints will pour Craft Beer Crosscut 10.14.18: A Flight of English Beer. Traditional British drinking culture is like this: You go out for a bunch of pints — you might be a five-pint guy — and all five pints are between 4.2 and 4.7 ABV. There's the beer you talk about — like all the juicy IPAs — and then there's the beer that you talk over. So sit back at enjoy the Hawks on our 130-foot screen and sip English beers that won't knock you on your arse.
Craft Beer Crosscut 10.14.18: A Flight of English Beer
Samuel Smith Organic Strawberry Fruit Beer
5.1% ABV, 16 IBU
One of the oldest operating breweries in the world, Samuel Smith's Old Brewery has been brewing with the same derivative yeast strain in the same stone vats for the last 255 years. They even keep a small team of Shire horses — a breed that traditionally pulled brewery wagons — to deliver beer around its hometown of Tadcaster. But for all this tradition, Samuel Smith is remarkably modern. All but one of its beers are vegan and the brewery has an entire line of organic ales, including its Strawberry Fruit Beer. According to Samuel Smith's, it's brewed at All Saints Brewery in Stamford, England using all manually operated equipment. Barley and wheat are combined to make an ale, fermented and aged for an extended period, then taken to Samuel Smith's brewery in Tadcaster, England. It is at this stage where they blend in pure strawberry juice to create a fruit-forward ale with malt and some bittering hops on the back.
Wells Banana Bread Beer
5.2% ABV, 18 IBU
In 2006, Charles Wells and Young's of London merged to become Wells & Young's Brewing Company and all brewing was moved to Bedford, England. In 2015, the brewery was renamed to Charles Wells. The brewery's Banana Bread Beer smells like bananas. Seriously. In fact, Banana Bread Beer not only smells like bananas, but tastes like bananas, too, and not the artificial banana of bubble gum. The flavor is nicely balanced with the hops, the banana component more a whisper than a shout. The whole thing was a little sweet, but not in a disagreeable way.
Samuel Smith's Nut Brown Ale
5% ABV, 31 IBU
Truly one of the best brown ales in the world; this is the cast and mold for lots of brewers trying to come up with a nut brown ale. Samuel Smith's Nut Brown Ale's aroma is subdued overall, showing only malted barley-related aromas of light caramel, soft red apple and a gentle walnut component. The flavor is a study in drinkability, as nothing about it dominates the palate. Toasty and robust, hints of almond and cocoa powder overwhelm the palate and a touch of burnt coffee lingers after every sip. By the way, nothing goes better with this brew than one of Peaks and Pints' warm chocolate chip cookies.
Samuel Smith Yorkshire Stingo
8% ABV, 35 IBU
Some of the oak casks at Samuel Smith's date back more than a century with the individual oak staves being replaced by the Old Brewery coopers over the years. Gradually the casks soak in more and more of the character of Yorkshire Stingo strong ale fermented in stone Yorkshire squares. Yorkshire Stingo is aged for at least a year, matured in these well-used oak casks in the brewery's underground cellars deriving fruit, raisin, treacle toffee, Christmas pudding and slight oaky flavors, before being further naturally conditioned in bottle.
Young's Double Chocolate Stout
5.2% ABV
Charles Wells's Double Chocolate Stout's thick, creamy head sticks to the glass, emitting cocoa powder and semi-sweet chocolate. A hint of hoppiness in the air reminds that it is very much a beer. Pale ale and Crystal malt, Chocolate malt, special blend of sugars, Fuggle and Goldings hops, real dark chocolate and chocolate essence are all utilized in creating this unique beer. Creamy chocolaty sweetness coats the tongue like liquid silk. The malty, chocolaty smoothness dives into roasted malt bitterness that tingles through the aftertaste: The chocolate's truly the chip off the old stout.
---