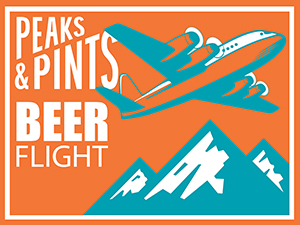 Galaxy hops are known among IPA lovers for their overflowing citrus, peach and passion fruit flavors. Tropical island aromas dominate the nose, lifting you away to a far off destination of flavor, like the coast of Australia, where these hops are grown since the mid-1990s, but released commercially in 2009. This Aussie-native hops hail from a lineage of male European cultivars — particularly Perle —bred with local Australian high alpha varieties. Galaxy hops are versatile; they can accent and compliment, or take center stage as the primary flavor. Their high alpha acid content make them especially suited to aroma hopping and the distinctive mixture of citrus, passion fruit, peach and hints of grass is sure to stand out. But don't take our word for it, explore the Galaxy for yourself with our beer flight Craft Beer Crosscut 10.11.19: Flight of Galaxy Hops.
Craft Beer Crosscut 10.11.19: Flight of Galaxy Hops
Almanac Peach Galaxy
7.5% ABV
Almanac Beer Company's Peach Galaxy is the fruit forward brother of Alameda, California brewery's Tropical Galaxy. The brewery's "Galaxy series" of beers inspired it to pursue a 1960s sci-fi style of illustration, and this new twist on the label includes plenty of new peach inspired touches as well as a new peach color scheme. But, let's get to the drinking. Peach Galaxy is a dry-hopped (Galaxy, Citra) sour farmhouse ale aged in oak barrels with peaches and spices. The aroma has very slightly sour peach with a woodnote, but the flavor is all peach, with some woodnote and moderately lightly sour.
FreeThought Phosphorescent
5.5% ABV
Ryan Jorgenson and Ben Clayton began homebrewing together nearly a decade ago after both had moved from California to Brooklyn. The duo opened FreeThought Brewing, experimenting with landrace and heritage grains in their grist, as well as developing their own mixed cultures of wild yeast and souring bacteria. Their Phosphorescent hazy pale ale is brewed with Maris Otter, raw and malted wheat, light Munich malt and flaked oats, then hopped with Galaxy. It drinks like a fluffy, mango milkshake with notes of papaya, peach, vanilla, juniper and purple kush. The grist adds structure and undertones of agave and banana bread.
Revision Social Fermentation
6.5% ABV, 35 IBU
Ready for a refreshing hop party? Revision Brewing's hazy Social Fermentation IPA has invited Citra and Mosaic, of course, and their buddy Amarillo, and foreigners Galaxy and Vic Secret out of Australia. It pours a milky light peach color with a thick sticky off white head. A nice tropical nose fills the party. The flavor consists of light, fresh citrus and juicy tropical fruit flavors with some soft sweet almost pilsner malt base. Would have guessed a few more IBUs than the listed 35. Expect a smooth finish with a little fruity sweetness.
Moonraker Bone Frog
5.8% ABV, 40 IBU
Moonraker Brewing Co. opened in 2016 in the same Auburn, California industrial park as Knee Deep Brewing, and was later honored as the ninth-best new brewery in the world by RateBeer, a resource for craft beer enthusiasts. Galaxy, Centennial, and Citra hops offer a big aroma of apricot, pineapple and peach before diving into Moonraker's quaffable, hazy pale ale. Fermented dry as a bone for crushability, without sacrificing flavor, and the notes of biscuit, and tangerine bring it all together.
Crux Cast Out India Pale Ale
7.6% ABV, 60 IBU
Crux Fermentation Project's Cast Out IPA features the Galaxy hop from Australia, a country famously populated by England's cast out convicts. Cast Out IPA employs these hops aggressively from hop back to dry hopping stages. Yet the result is a balanced and bronzy ale, with medium hop bitterness complemented by moderate maltiness, showcasing aromas and flavors reminiscent of passion fruit.
---