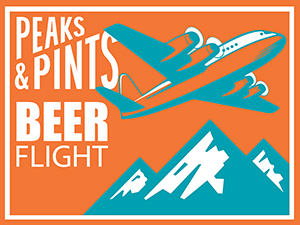 People often ask Peaks and Pints where the ideas for the daily beer flights come from. Well, normally, our big hairy muse, Chester, sends a crumpled manuscript with beer can rings, Cheetos dust and cigar burns on it, C.O.D. When Chester's on a bender, we turn inward for inspiration. We light a candle, squirt some aromatherapy gunk in our electric potpourri cooker, chant our mantra, "Hops, hops, hops," and go into a foggy trance. Through the mist we see a flicker of light. A voice in our heads say, "Go to the light." We go. After we have cleaned up the spilled wax, we wait. When nothing happens, we open a craft beer, sit down at our computer and start typing. After we have written what amounts to three columns, we hit the delete key, turn off our computer and go to bed. In the morning, sitting in front of our DigitalPour electronic beer menu board, we finally bang something out, unencumbered by any ideas whatsoever. Today, the fingers made a flight of beers without any references to the hops — meaning we present Craft Beer Crosscut 1.8.20: Hops of Mystery, a flight of IPAs with unknown hops. Oh, good lord.
Craft Beer Crosscut 1.8.20: Hops of Mystery
Double Mountain Juicy, Clearly Not Hazy IPA
5.9% ABV, 25 IBU
Double Mountain Brewery & Taproom is keeping things Juicy, Clearly Not Hazy with its latest seasonal IPA. The Hood River, Oregon-based brewery is keeping things west coast and proving IPAs can have all the juicy hop flavor of a hazy IPA, minus the cloudiness. Pour in to a dense tropical rainforest dripping with the sticky, delicious mango, kind herb, and ripe orange. The taste of the tropics continues in the rounded body, leaving only a whisper of bitterness. The hops? Hell if we know.
Revision Sparkle Muffin
7% ABV, 30 IBU
Revision Brewing brews a ton of New England-style IPAs; this one sparkles with fruitiness, strawberry and blueberry hop notes, medium-muffin hop bitterness, medium cracker muffin, and a dry finish. Indeed, this fruit-forward single IPA with a prancing pink and white cat on the can features deep flavors of citrus from the hops yet is easy drinking. You know what's not on the can? A list of hops.
Postdoc Supernova Remnant Hazy IPA
7.4% ABV, 30 IBU
This tropical shock wave was made by bringing together host Postdoc Brewing and Volition Brewing in North Bend. Exploding with ripe mango and fresh lime, this collaborative hazy sweeps up flavors of pineapple, orange and agave. Finishing with a soft and pillow-y body, you're invited to enjoy this interstellar journey with them … but without the knowledge of the hops. Hint: one of the four hops is named after an icy, small Solar System body that, when passing close to the Sun, warms and begins to release gases.
Block 15 Sticky Hands
8.1% ABV, 100 IBU
Block 15 Brewing sits heart of downtown Corvallis, only a few blocks from Oregon State University. The brewery's name hails from Corvallis' previous incarnation as Marysville and the old plat map location from the old town. In late 2011, homebrewers Nick and Kristen Arzner opened the brewery and restaurant serving beers true-to-style with ingredients imported from different parts of the world, along with all the Willamette Valley produced grains, hops, fruits, herbs and yeast. Its Sticky Hands double IPA is a "Hop Experience Ale" featuring ample additions of sticky, resinous, lupulin packed hop buds grown in the Pacific Northwest — although the hop bill can't be found on the Internets. Sticky Hands begins with an aromatic blast of tropical fruits, citrus and dank herb; transitions into luscious hop flavor; and ends with a balanced bitter finish, gently propped up by pale malted barley and fermented with Block 15's privately banked Brewers yeast.
Three Magnets More Reverb
6.6% ABV
"West Coast India Pale Ale." That's Three Magnets' More Reverb IPA's description on Untappd. Facebook dives deeper: "Sometimes you need a clean, crisp, crunchy distortion. But other times, you just need more fucking reverb. This throwback IPA features tons of grapefruit and pine with a dry malt profile that will linger on your palate for what Randy describes as "eternity". Who is Randy? What are the hops? Well, we did coax Centennial out of Three Mag's owner Nathan Reilly. More More reverb please!
---