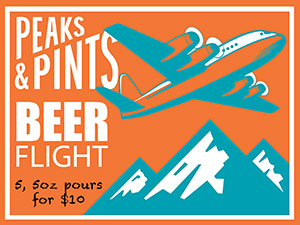 There's nothing quite like a good porter; Peaks and Pints can recognize one almost by its aroma alone. These dark, often full-bodied beers have something of an attitude thanks to their caramel and chocolate tones. The origins of the style are traced to the 1700s, when it was a favorite beer of the porters who worked the shipyards in London. In the U.S., the porter style nearly vanished in the years following Prohibition, as light-bodied lagers appealed more to the masses. Homebrewers and small craft beer makers helped revive the style. Today, Peaks and Pints salutes porters in the beer flight Craft Beer Crosscut 1.23.18: A Flight of Porters.
Chuckanut Robust Porter
4.5% ABV, 22 IBU
Chuckanut Brewery's British porter follows the Brown British Beer styles — a dark and full bodied porter showing more roasted character than brown ale, but less than a stout. It has a strong malt aroma with mild roast character and low chocolate notes. Its flavor matches the nose closely with strong malt character being the main star. Roast, chocolate, toast and caramel provide complexities but don't rise above the flavor of malt. It's a very drinkable porter.
Deschutes Black Butte Porter
5.2% ABV, 30 IBU
Deschutes named its porter after a stratovolcano in the Deschutes National Forest near its brewery in Bend, Oregon. While there, grab a fresh pint of one of the loveliest porters in the country. The aroma bears a hint of nuttiness, followed by the unmistakable smells of rich yet soft milk chocolate. Black Butte Porter is slightly bitter in the first sip, but mellows out with a chocolate and roasted finish. As creamy and chocolaty as it should be, this is the porter all other porters strive to be.
Reuben's Robust Porter
5.9% ABV, 30 IBU
Ever heard of a brewery starting because of a birthday gift given by a one-month old? Little Reuben bought his father, Adam Robbings, homebrew kit, with the help of his mother, Grace Robbings. The Robbings went on to found Reuben's Brews in Seattle. Reuben will be proud of his parents' Robust Porter. The judges are: 2012 and 2013 World Beer Championship silver medalist, 2013 US Open silver medalist, 2013 Washington Beer Awards silver, 2014 Australian International Beer Awards bronze, 2014 Washington Beer Awards gold, 2015 World Beer Championship gold and 2015 Washington Beers Awards Gold. We certainly enjoy its great depth of richly roasted chocolate malts and coffee tones. It has an espresso bitterness balanced by a touch of creamy vanilla and caramel sweetness, without being cloying or off putting.
Skookum Brûlot
7.5% ABV
Skookum Brewery has an interesting porter here. This robust milk porter was brewed with an array of specialty malts and finished on a bit of whole coffee beans, cara-cara orange zest, whole vanilla beans and just a touch of cinnamon. The lactose character is full, amplifying the beer's creamy texture, dessert flavors and add a bit of richness. Dangerously drinkable, it's easy to imagine tilting back pint after pint of this all night long — call it the Left Hand Milk Stout of porters with balanced flavors of vanilla, coffee and a little orange.
Viven Smoked Porter
7% ABV
Brewed at De Proef, Brouwerij van Viven Smoked Porter renders our 5-ounce taster glass a deep dark color that allows almost no light to pass, save for a ruby glow at the edges. The nose provides a multicultural beery experience — offering up notes reminiscent of sweetish English porter, the chalky-meets-chocolaty dryness of many classic domestic craft porters, a little Belgian yeastiness and even some German rauchbier notes. Viven Smoked Porter hits the tongue with gentle, balancing sweetness, giving way to a much drier, roasty middle, then into a woody, lightly smoky, almost chalky character where notes of espresso and dark chocolate linger before fading out.
---