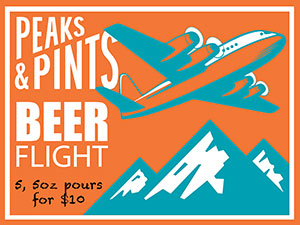 The Palisade, named for an American hop variety that is related to the German Tettnanger, is a proprietary hop owned by Yakima Chief. It is an extremely vigorous hop, unlike Tettnanger, with rather high yields. When harvested early in the season, Palisade has a gentle, pleasant aroma that blends well with beers having a delicate flavor profile, but when harvested later Palisade becomes rather aggressive and pungent. On average, Palisade shows a range of tropical fruit aromatics and is sometimes reminiscent of mango, with notes of apricot and freshly cut grass. Today, Peaks and Pints feature Palisade hops in our beer flight Craft Beer Crosscut 1.17.18: A Flight of Palisade Hops.
Black Raven Coco Jones Coconut Porter
5.6% ABV, 33 IBU
This beer has a storied history at Black Raven Brewing Co. It was first brewed back in 2009 as a variant of the Redmond, Washington brewery's Tamerlane Brown Porter, infused with toasted coconut. When customers went cuckoo for Coco, Black Raven decided to enter it in the World Beer Cup where it won a gold medal (category: herb/spiced beer) in 2010. Hopped with Palisade and Magnum, the porter's subtle nut and coffee tones takes a delicious turn when infused with fresh coconut.
Dogfish Head 60 Minute IPA
6% ABV, 60 IBU
In 1995, Sam Calagione found time to open Dogfish Head Brewings & Eats in the beach community of Rehoboth Beach, Delaware. It was the smallest commercial brewery in America at that time. Within a few successful years, the company made good time switching from making very small, homebrew-style batches to industrial-sized sessions in a sizeable brew house. Dogfish Head Crafted Brewed Ales expanded and moved to a 100,000 square foot facility in nearby Milton, DE in 2002. They're one of the largest craft brewers in America but yet there may be no brewery today that exhibits such a dedication to experimentation and boundary pushing. Dogfish Head brewers add Warrior hops continues for 60 minutes when brewing 60 Minute IPA. Simcoe and Palisade hops are tossed in for 30 minutes and it's dry hopped with Amarillo, Simcoe and Glacier for a sweet aroma of apricot and pear — similar to a Riesling. The beer doesn't taste as sweet as it smells and instead we get notes pungent grapefruit pith with a slight bitterness.
Dogfish Head 90 Minute IPA
9% ABV, 90 IBU
The 90 Minute IPA, which debuted in 2001, is the first beer that Dogfish Head continuously hops, adding hops for 90 minutes during the boil for bitterness, and then dry-hop in the fermentation casks to achieve high aroma and flavor. Despite the massive amounts of hops, a clean, grainy malt character ekes through — maple and golden raisin — balancing some of the bitterness and grassy flavors. With that balance between the complex mash bill, the different grains and the brewery's unique continual hopping approach, plus the centerpiece Palisade hops, which they focus their IPAs around, makes the beer really stand out in a world where there's a new IPA coming to market every 90 minutes.
Hop Valley Alphadelic IPA
6.7% ABV, 90 IBU
Hop Valley's Alphadelic IPA pours an orange/copper hue for a citrus nose leading to an abundance of hop flavor (Simcoe, Cascade, Cluster, and Palisade) and enough malt to back it up (Great Western, 2-row and Munich). Graham cracker malts smooth out a piney hop bouquet. On the tongue, sweet, bready malts connect with dynamic resiny, piney hops that flourish and linger into the finish. It has the threat of intense bitterness, you can feel it coming on, but it stops just short and delivers smooth, even hop character without overpowering the palate.
Fort George Vortex IPA
7.7% ABV, 97 IBU
Caught in a tornado in the Midwest while hauling their original brew system cross country from Virginia, it made sense from Fort George Brewery to whip up Vortex IPA. With a hearty 7.7% ABV unfiltered, unpasteurized organic malt spine that makes way for Simcoe, Amarillo, Centennial and Palisade hops this IPA is medium bodied with a resinous mouthfeel, grapefruit more than pine and finishes with lingering hop bitterness. This beer is straight up delicious.
---