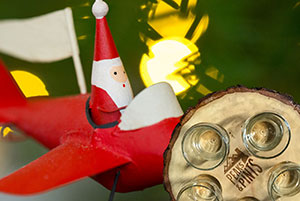 The moths are on to something. Lights are awesome. Especially holiday lights. Make today the day you check out Fantasy Lights — a South Sound institution for 25 years. Take a driving tour of Fantasy Lights in Spanaway Park, where carloads of travelers can see more than 300 stunning displays of lights and imaginative animation over a two-mile stretch of Spanaway Lake Park. It's where bears fly kites, Santa and Rudolf sail a tall ship, snow boys kick field goals, penguins slide down an igloo and reindeer leap over your car. Fantasy Lights will operate every night including Christmas and New Year's Day, from 5:30-9 p.m. After you Fantasy tour swing by Peaks and Pints for a holiday beer flight — and one cider — that we call Christmas Beer Flight 12.3.19: Fantasy Lights.
Christmas Beer Flight 12.3.19: Fantasy Lights
One Tree Snow Globe
6.6% ABV
Who doesn't love glitter? It's nearly impossible to get out of your cleavage after a night on the town, but it's festive as hell. And now thanks to edible glitter, your digestive system can be as sparkly as your 1990s eye shadow palette. One Tree Hard Cider Snow Globe is a delicious spiced cider with glitter. We recognize the clove and cinnamon, but the glitter seems like a handful rather than a full dance floor dump.
Trap Door Minifigs
7.9% ABV
Trap Door Brewing sits in downtown Vancouver, across from the city's busiest dispensary, and right next door to a food-cart pod. Know for brewing delicious hazy IPAs and a terrific pilsner, their Minifigs is a mixed culture Belgian-style dark strong ale aged in bourbon barrels for 10 months on figs and plums. The result is slightly tart with aromas of dark dried fruit with some caramel and maltiness for a well balanced barrel aged winter beer.
Diamond Knot Industrial Ho!Ho! Winter Ale
8.5% ABV, 60 IBU
Diamond Knot Brewing Industrial Ho!Ho! Winter Ale, brewed for 19 years, is on the nitro tap at peaks and Pints. This winter ale is the first beer recipe Diamond Knot Vice President of Brewing Operations Pat Ringe created when he arrived at the Mukilteo, Washington, brewery. Ho!Ho! is hoppy!hoppy! — 60 IBUs — with a balanced residual sweetness. It was also the first recipe he created when he came to Diamond Knot.
Silver City Old Scrooge Christmas Ale
8.5% ABV, 60 IBU
What's the difference between a Christmas beer and a winter beer? Well, the labels for Christmas beers are usually red and green, while winter beer labels tend to be blue and white. As far as style goes, though, there's not much to differentiate them. In fact, neither is even an official beer style. It's fair to say Silver City Brewery's Old Scrooge Christmas Ale is a Christmas beer. Besides its red and green label and Scrooge reference, "Christmas" is actually in its name. The old ale is bound to delight the palate with notes of apple, cherry and apricot.
Hopworks Abominable Winter Ale (Whiskey Barrel Aged)
10.2% ABV
This Hopworks Urban Brewery beer began its life as Abominable Winter Ale before being gently whisked away and laid to rest in freshly emptied Kentucky bourbon barrels. In the bourbon barrel, the beer picked up notes of vanilla, oak, spice, caramel, and whiskey.
---