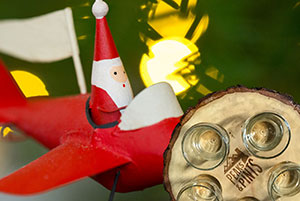 Of all the many things Peaks and Pints enjoys about the holidays, one thing sits atop that list. The parties. Sure, bourbon barrel-aged winter ales are nice, Christmas trees smell good, and candy canes are fun to suck on until they get really sharp and end up drawing blood in your mouth, but nothing — and Peaks and Pints means nothing — beats a good holiday party. Whether it's an office party, a family party or simply a party party, the holidays are the perfect time to let loose. Tonight is The Valley's  Countdown To Christmas beginning at 9 p.m. Here's the gist: The Valley co-owners and Christmas fanatics Justin and Robby Peterson decided seven Countdowns weren't enough. Then came the brilliant part (probably with help from bartender Brittany): Don't just throw a party, throw one hell of a party with Tacoma luminaries Girl Trouble and The Dignitaries to lay down some of their favorite holiday tunes, as well as their own rocktitude. Last (Peaks and Pints' idea), prefunk at Peaks and Pints with our daily holiday beer flight that we call Christmas Beer Crosscut 12.7.19: Countdown To Christmas. Pro Tip: Kate Swarner will be at Peaks celebrating her 50th birthday beginning at 7:30 p.m.
Christmas Beer Crosscut 12.7.19: Countdown To Christmas
One Tree Chai Yeti
7% ABV
Yes, another cider crawled out of Santa's bag and into Peaks and Pints daily holiday flight. One Tree Hard Cider Chai Yeti is a limited release holiday cider brewed with chai tea and squid ink combining the wintertime comfort of mulled apple cider and the bold flavor of masala chai. The warming spices in this chai-cider make it ideal for the holidays. It pairs well with many traditional Thanksgiving, Christmas, and Hanukkah foods, including apple pie, sweet potato pie, gingerbread, latkes with applesauce, and sufganiyot. Oh, and it's almost black in color.
Schloss Eggenberg Samichlaus Classic
14% ABV, 20 IBU
It's THE Christmas beer, no? Brewed once a year on St. Nick's Eve and aged 10 months, Schloss Eggenberg's Samichlaus Classic is a 14-percent ABV doppelbock was the strongest lager in the world when Michael Jackson wrote of it in 1991. That's no longer the case, but it's still revered as one of the greats. It hits the nose with dark fruits, red wine, and roasted nuts. Molasses, roast malts, spices, and roast nuts flows over the tongue. This thick, almost oil like, doppelbock hides the alcohol well, but leaves a warmth.
Anchor Merry Christmas & Happy New Year (Our Special Ale) 2019
6.9% ABV, 40 IBU
Back in 1975, Anchor Brewing Co. released the first holiday beer in America since Prohibition. Since then, Anchor creates a new, secret recipe with a unique hand drawn label for their Our Special Ale, aka Christmas Ale, but the intent with each brew remains the same: joy for the changing seasons and celebration of the newness of life. Slightly darker than last year's Christmas Ale, the 2019 edition is layered with toasted caramel and coffee flavors with subtle hints of Mexican chocolate, rounded out with herbaceous spices. Dip your nose for western evergreens, roasted malts, and coastal flowers. It's a rich, round and full bodied-treat with a silky, smooth finish.
Maritime Pacific Jolly Roger Christmas Ale
8% ABV, 42 IBU
A Christmas beer with a pirate skull and crossbones donning the bottle? This one is for you, Jack Skellington! George and Jane Hancock founded the ma-and-pa Maritime Pacific Brewing Company in an old transmission shop in 1990 in Seattle's Ballard neighborhood. In 1997 they opened the Jolly Roger Taproom named, as they say, "in honor of our most popular holiday brew": Jolly Roger Christmas Ale. A beer fridge staple, Jolly Roger English strong ale combines rich malt character with a blend of fresh Northwest Chinook and Cascade hops.
Ninkasi Sleigh'r Dark Double Alt Ale
7.2% ABV, 60 IBU
Ninkasi Brewing's motivation for creating Sleigh'r was to make a beer different than other Northwest winter beers that feature big hop profiles and rich caramel flavor. They created a malt-forward yet dry, toasty and hardy beer brewed in the traditional German Alt way, only darker. First released in 2009, Sleigh'r rides roasted barley and Chocolate malts with Nugget hops balancing roasted malt, cooked sugar and a little dark fruit flavors. It's surprisingly light in body with a dry finish.
---