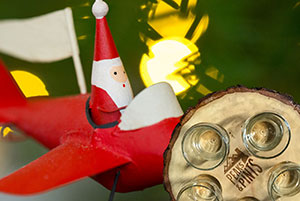 It wouldn't be December without a "Peanuts" special or a gift-wrapped tin of cashews in a Christmas stocking. The holiday season is when nut lovers come out of their shells. Sorry about that. But, seriously. 'Tis the season for "chestnuts roasting on an open fire," even though most people have never actually seen such a thing. Then, there are nutcrackers. Tacoma City Ballet's The Nutcracker & The Tale of The Hard Nut is a glorious production filled with spectacular dancing, live orchestral music, grand scenery, and lavish costumes. Presented for the first time in the beautiful newly renovated Pantages Theater, Tacoma City Ballet's historical recreation of The Nutcracker, which premiered in St. Petersburg, Russia in 1892, hits the stage at 2 p.m. Drop by Peaks and Pints before or after the Nut for a flight of holiday beer we call Christmas Beer Crosscut 12.15.19: The Nutcracker.
Christmas Beer Crosscut 12.15.19: The Nutcracker
Delirium Noel
10% ABV, 20 IBU
In the town of Ghent sits Brouwerij Huyghe, the oldest, active brewery in that corner of Belgium. The brewery is best known for Delirium Tremens, a highly regarded Belgian strong pale ale, but they produce a wide variety of beers ranging from pilsners, witbiers, fruit ales and lagers. Huyghe's Delirium line of beers is famous for the pink elephant that adorns every label on every ceramic painted bottle. Its Noel labels are no exception. Skiing, sledding, pulling Santa's sleigh; the Pink Elephant does it all. Delirium Noel is a big, spicy beer with a lot dried fruit character and touch of alcohol to let you know that you're drinking a beer with a double-digit ABV.
Kulshan Kitten Mittens Winter Ale
7.4% ABV, 39 IBU
Kulshan Brewing adds four different malts — 2-row, Chocolate, roasted barley and Munich — to Kitten Mittens Winter Ale giving it the rich, medium-bodied winter warmer we adore with a nose of milk chocolate and a touch of brown malt. The body strikes a nice mix of easy malty notes and medium sweet chocolate balanced by earthy hop notes, thanks to the Apollo, Willamette and Fuggle hops. We dig the touch of chocolate liquor on the finish.
Reuben's Three Ryes Men
12.2% AVB
This is the third vintage of Reuben's Brews' GABF-winning barrel-aged barleywine. Three Ryes Men is brewed with malted rye, flaked rye, and crystal rye and then aged in whiskey barrels where it has rested. After aging, the beer has developed flavors that according to the brewery offer a full body with malt driven caramel and chocolate notes, and layers of warming complexity.
Maritime Pacific Port-Aged Jolly Roger Christmas
9% ABV
George and Jane Hancock founded the ma-and-pa Maritime Pacific Brewing Company in an old transmission shop in 1990 in Seattle's Ballard neighborhood. In 1997 they opened the Jolly Roger Taproom named, as they say, "in honor of our most popular holiday brew": Jolly Roger Christmas Ale. A beer fridge staple, Jolly Roger English Strong Ale combines rich malt character with a blend of fresh Northwest Chinook and Cascade hops. Once again, Maritime gave its famous winter ale a port-aged treatment aged on wild cherries in tawny port oak barrels.
Uinta Rise & Pine
7.5% ABV, 85 IBU
After greeting the day, you walk into the kitchen of the stunning mountain cabin your family rented for the holidays. You grab a pint of Unita Brewing Rise & Pine, sniff the chocolate and pine resin notes, walk past the Christmas tree surrounded by presents, and grab your coat. You walk out to the porch and spend the morning relaxing in a rocking chair, sipping your dark ale loaded with juniper and pine hops while the sun rises over the picturesque mountains, waiting for the rest of the family to wake up.
---