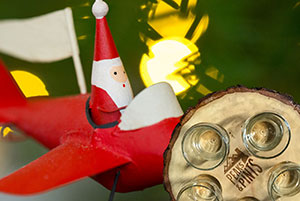 The curses of the December birthday are many. People try to roll holiday presents and birthday gifts into one; the birthstone, blue topaz, can be less than flattering; and the month's flower, the poinsettia, traditionally decorates porches for the holidays. (The April-born, on the other hand, get diamonds and daisies, a very admirable bloom.) Think of that when strolling through Light Plantasia at the W.W. Seymour Botanical Conservatory. This is not your regular holiday light show. For five nights, 5-7 p.m., you can enjoy the botanical gardens inside the W.W. Seymour Botanical Conservatory illuminated for a stunning and unique holiday excursion. Lusio's Light Plantasia features various light exhibits by local artists woven directly into the gardens and incredible lighting designed to create an entirely new world after dark. Swing by Peaks and Pints before or after the luminous journey through a rainbow of botanical landscapes for a flight of holiday beers we call Christmas Beer Crosscut 12.10.19: Light Plantsaia.
Christmas Beer Crosscut 12.10.19: Light Plantsaia
Rogue Santa's Private Reserve
5% ABV, 22 IBU
Rogue Ales Santa's Private Reserve is a Belgian dark ale packed with tangerines and boysenberries. Rogue Brewmaster John Maier must have been listening to "The Twelve Days of Christmas" but hates drummers as this craft beer was brewed with 11 ingredients: Munich, Carahell, Special W, Caramalt and C-75 malts, Magnum and Rogue Farms Independent hops, Dark Belgian Candi Sugar, brown sugar, Imperial Workhorse Yeast and Free Range Coastal Water. The candi sugar enhances the sweet and tart characteristics of the fruit, and the beer takes a little bit from both sides of the list: it will put a little color on your cheeks, but finishes on the sweet side.
Silver City Bourbon Barrel Old Scrooge
9.5% ABV, 26 IBU
The cats at Silver City Brewery excel in their Barrel-Aged Series, from Bourbon Barrel Aged Time Goddess Imperial Stout to Port Barrel Giant Made of Shadows. But the barleywine is the star. This holiday bourbon barrel-aged English barleywine offers up a rich aroma of toffee and sweet cherry, with a rush of warm vanilla, bourbon and caramel malt to create an immaculate fireside drinking companion.
Brasserie Dupont Avec Les Bons Voeux
9.5% ABV, 28 IBU
In January 1970, Belgian brewery Brasserie Dupont needed a gift to dole out to key clients during the holidays. Key chains just weren't going to cut it. Since the brewery produces amazing ales they thought why not gift an ale: Avec Les Bons Voeux, which translates as "with best wishes." It blew minds. Dupont eventually released it commercially, albeit in limited quantities. A saison boasting a hefty 9.5-per-cent alcohol, it pours with a hazy tint and is almost buttery-smooth in texture. There's mellow fruitiness and yeasty bread flavor at its core, with lively clove and licorice notes folded in, set against a solidly bitter backbone.
The Lost Abbey Gnoel De Abbey
8.5% ABV
The Lost Abbey Gnoel de Abbey is a winter warmer brewed to be lighter in body while maintaining nuanced notes of oak. Beginning with aromas of freshly brewed espresso, Gnoel has hints of cocoa, vanilla and holiday spice, finishing with a crisp coffee bitterness. Holiday Brown Ale

Maritime Pacific Tannenbaum Jolly Roger Christmas
9% ABV
George and Jane Hancock founded the ma-and-pa Maritime Pacific Brewing Company in an old transmission shop in 1990 in Seattle's Ballard neighborhood. In 1997 they opened the Jolly Roger Taproom named, as they say, "in honor of our most popular holiday brew": Jolly Roger Christmas Ale. A beer fridge staple, Jolly Roger English Strong Ale combines rich malt character with a blend of fresh Northwest Chinook and Cascade hops. Once again, Maritime gave its famous winter ale a spruce treatment. Spruce tips have been used in the brewing process for hundreds of years. They were one of the main additions in beer before people learned about brewing with hops. The fresh, tender tips have a mellow pine scent and a crisp flavor.
---