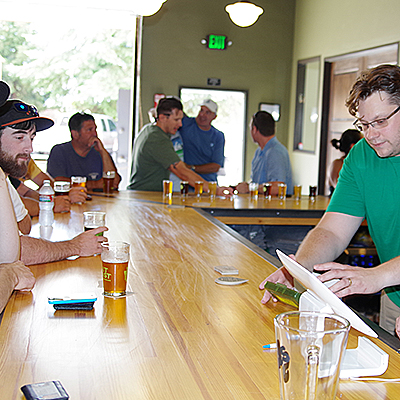 Wet Coast Brewing Company
6820 Kimball Dr, Gig Harbor, WA 98335, United States
Biography
Established: 2015
Owners: Bryan and Molly Copeland, Aaron and April Johnson
Brewers: Bryan Copeland, Aaron Johnson
Location: 6820 Kimball Dr., Suite C, Gig Harbor, WA 98335
Specialty: Small batch, Northwest-inspired, true-to-recipe ales
Five Notable Beers: Moving Day IPA, El Capitan Coffee Brown Ale, Hi Jack! Red Ale, Brass Rail Pale Ale, Single Hop IPA Series Beers
Awards: Homebrew people's choice award
Fun Facts:
>>> Bryon and Aaron are full-time firefighters in Pierce County
>>> The name of the brewery is a triple entendre: 1.West Coast, 2. Northwest weather, 3. Prohibition, where citizens voted wet or dry. Many wet Coast beers give a nod to Prohibition days, for instance Hi Jack! was used in speakeasies as a code word for law enforcement.
West Pierce Fire and Rescue firefighters Bryan Copeland and Aaron Johnson are the brewers and co-owners behind the business, along with their wives Molly Copeland and April Johnson. They started planning their brewery for years, but didn't get serious until 2012. They opened in Gig Harbor in 2015 on a 3.5-barrel brewing system, with three 7-barrel bright tanks and four 7-barrel fermenters. They serve their beers and guest taps in an on-site taproom. Guests (all ages) can view the brewing process and purchase ales for consumption at home, via growlers and eventually bottles and cans.