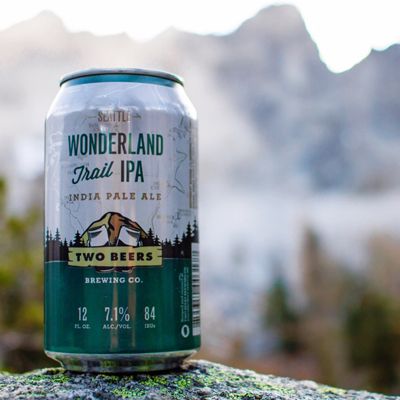 Two Beers Brewing Company
4700 Ohio Ave S, Seattle, WA, United States
Biography
Aww, just look at you. You seem a little distraught. A mite riled, even. Heck on a fake handshake, we'd even go so far as to say you were downright angry, given how we can see you speed walking ahead of your befuddled friend. Really now, that can't be good for your chakras, can it?
You need to chill with two beers.
"I guess life is just a little more honest after two beers." — Joel VandenBrink
Wait, what? Who let that guy in here?
In 2005, VandenBrink found himself in a disagreement with a friend, so they headed to a local pub to talk it through. After the second pint disappeared, the two friends had an honest conversation.
Before that second pint, VandenBrink was putting his engineering degree from Grand Valley State University to use at the Johnson Controls plant in Holland, when he wasn't exploring the great outdoors. The outdoorsman eventually moved to the great Seattle outdoors, epic solo hikes and, eventually that second pint of beer.
After a homebrew starter kit and an inspirational tour of New Belgium Brewing, VandenBrink founded Two Beers Brewing Co. in a 170 square foot ActivSpace facility along Highway 99 in Seattle's Fremont neighborhood in August 2007. While Seattleites gasped when Seahawks quarterback Matt Hasselbeck and fullback Mack Strong presented President George W. Bush with a Seahawks' No. 43 jersey, VandenBrink engineered his beer recipes on two burners and two 27-gallon fermenters. In June 2008, VandenBrink delivered his first keg, hauled his 20:20 Blonde into the Park Pub in Seattle's Phinney Ridge neighborhood.
He sold a maximum of four kegs a week to gauge a response from his consumers and the rest, as they say, is history.
December 2008
After upgrading to a whopping 340-square-foot ActivSpace, and with $17 in his bank account, VandenBrink hired his first employee, Tyler Pickel, a Yakima Valley native and fourth generation hop farmer he met at the annual national Craft Brewers Conference.
February 2009
Two Beers Brewing purchases its first delivery vehicle — a Chevy Astro Van, lovingly named "Brutus." As the world laughed at Amazon CEO Jeff Bezos' wacky laugh on "The Daily Show," VandenBrink and Pickel deliver 20:20 Blonde Ale, Crooked Belgian Wit and Immersion Amber Ale to Washington state outlets.
March 2009
With sales tripling in less than a year, Two Beers Brewing moved its full operation into a 2,400 sq. ft. SoDo neighborhood brewery and tasting room, adding three 250-gallon tanks, one 1,000-gallon tank and a cellar. The brewery quickly reached 470 barrels sold in its second year. Tacoman Eric Willard, who works across the street at Tiny's Organic, wanders over to Two Beers and begins friendship with VandenBrink. Willard ends up delivering kegs to Tacoma taverns The Spar and The Parkway on his way home.
August 2010
Two Beers Brewing celebrates one year at its SoDo facility with a giant party, tapping the only keg of Winter Hop 2009 remaining, 20:20 Blonde, Crooked Belgian Wit, Immersion Amber, Persnickety Pale, Echo IPA, Evo. IPA, Sodo Brown and Summer Hop, as well ad several casks.
December 2010
As another rainy, wet Christmas is celebrated in Western Washington, Two Beers cheers reaching more than 300 tap handles and 1,100 barrels sold.
February 2011
As an asteroid the size of a car comes close to hitting Earth, residents of Seattle salute celebrate the continuation of the human race by popping open the first line of Two Beers 22-ounce bottles — Evolutionary IPA and Persnickety Pale Ale. The bottles are released to Full Throttle Bottles store in SoDo, and eventually across Washington, Oregon, Alaska and Northern Idaho.
June 2011
Men's Health magazine, known for brazen displays of six-pack abs on its monthly cover, names Seattle the healthiest city in the nation, an embarrassing day for Lexington, Kentucky, which came in at No. 100 and earned the title "America's most sedentary city." To keep the healthy drive alive, Two Beers Brewing begins distributing 12-ounce cans in dozens of Seattle area retailers. "As a hiker and backpacker myself, it's great to be able to enjoy a flavorful craft beer after a long hike, without having to lug around heavier bottles in my backpack. Plus, cans can go places bottles can't, such as outdoor concerts. It's a great option with a lot of benefits," says VandenBrink. Six varieties are canned, including summer seasonals Panorama Wheat and Trailhead ISA.
November 2011
Two Beers doubles its SoDo facility to 4,800 sq. ft. The new space, called The Woods, features a dedicated tasting room, 12 taps, eight dedicated growler filling stations and room for 18 additional 1,000-gallon tanks. At the end of 2011, Two Beers produces more than 3,000 barrels.
May 2012
A rare tornado strikes Tokyo. Two Beers sends its beers to Tokyo, as well as British Columbia. Two Beers International expansion begins.
August 2012
The most highly anticipated event of late August isn't the Toyota sponsored "Whac-A-Hipster" game at Seattle's Bumbershoot music festival, but rather Two Beers releasing its 2012 Fresh Hop, as well as the brewery's Heart of Darkness Imperial CDA and Pumpkin Spice Ale – both in 22-ounce bottles. First brewed in 2009, Fresh Hop enters its fourth season on the brewery's fall lineup. This Northwest-inspired brew's strong citrus aroma – featuring hints of grapefruit and passion fruit — can be attributed to the freshly picked, Yakima Valley-grown Centennial hops used to create it.
November 2012
Two Beers celebrates five years of exciting growth and expansion with a party and a beer at its SoDo facility. Since opening its doors in 2007, producing only 100 barrels in its first year, Two Beers Brewing has increase by 28 times its floor space and nearly 100 times its capacity. To mark the occasion, Two Beers Brewing releases the limited edition Anniversary Double IPA. Brewed with 10 Pacific Northwest hops, this unique beer is aged on 320-pounds of organic peaches and plums, then dry-hopped with Simcoe and Columbus hops.
January 2013
A record 5,834 people threw snowballs —chunks of ice, really— at the Seattle Center and were certified by Guinness Book of World Records observers in what is for now the world's largest snowball fight. Helping warm up the adult snowball throwers, Two Beers announces its Alta Series, featuring four bold, complex ales — each reaching above 9.0 percent ABV and boasting its own distinct personality — in wax dipped, screen-printed bottles. The first beer is the Switchback Russian Imperial Stout, barrel aged in brandy barrels for six months, followed by four months of aging on Theo organic cocoa nibs, vanilla beans and bing cherries.
Winter 2013
VandenBrink and crew secure neighboring warehouse formerly held by Churchkey Can Co., grabbing the opportunity to launch a cider company a year or two earlier than planned. Willard offers his apple fermentation skills and knowledge to the new company, experimenting with apple varietals and yeast with fellow Two Beers employees Brent Miles.
April 2013
Two Beers Brewing jumps the Mississippi and begins distributing to Vandenbrink's home state of Michigan.
June 2013
Seattle knows how to let it all hang out on two wheels. The 25th anniversary of Fremont's Solstice Parade and its companion naked bicycle ride draw thousands to Seattle. Vandenbrink also knows how to let it hang — as in apples. The founder of Two Beers announces his apple-focused enterprise Seattle Cider Company. It's the first cidery to open in the city of Seattle since Prohibition. He plans two styles to start, a dry and a semi-dry, with blends of apples custom tailored by sales and distribution director Eric Willard, whose years working at Tiny's Organic made him a bit of an apple savant. Willard calibrates a blend of familiar dessert apples — including Fuji, Gala, Granny Smith and both Golden and Red Delicious — with varying sugar content, acidity, pH and other characteristics, that produce a cider that isn't the cloyingly sweet version of our youth. VandenBrink became interested in cider in part because he was diagnosed with Crohn's disease four years ago. Cider is naturally gluten free and easier to digest. Seattle Cider Company moves into the former Churchkey Can Co. space next door to Two Beers.
November 2013
Six years after launching, Two Beers is in six states and four countries, with draft and package products in more than 1,000 accounts. A new logo, new cans and new bottle labels are toasted with the Sixth Anniversary India Pale Lager during a party in The Woods. Attendees of the expanding brewery's Sixth Anniversary Party also drank seasonal brews including award-winning Jive Espresso Stout, Heart of Darkness Imperial CDA, Pumpkin Spice 2013 and the final kegs of Fresh Hop 2013. The also mark the release of the final beer in Two Beers Brewing's coveted Alta Series, the Overhang Bourbon Imperial Porter.
January 2014
Two Beers Brewing, Seattle Cider Company and New Belgium Brewing join forces to create a one-of-a-kind graff, a unique style combining unexpected hops and malt with small batch cider from Washington state. Coined GRAFF(T) — a nod to the style of beer as well as the process of bonding a shoot from one plant to another — this 7.3 percent ABV beer was brewed at Two Beers Brewing in Seattle's SoDo neighborhood using New Belgium Brewing hop varieties and unfermented apple juice from Seattle Cider Company. Graff(T) is an India Pale Lager brewed with 100 percent pilsner malts, Nelson Sauvin hops from New Zealand and a 10 percent by volume addition of unfermented apple juice (also known as "must"). The resulting hybrid has a dry crispness with notes of grapefruit and citrus.
February 2014
Two Beers announces the return of its Alta Series, accompanied by the announcement of its new Single Hop, Single Farm series. The re-release of the growing brewery's bold Fall Line Russian Imperial Stout (formerly known as Switchback) includes 1,800 limited edition bottles, which sold out in just under a week its first year. The Single Hop, Single Farm series features a different single-hop each release. The first beer of the series features the Citra hop — harvested from Loftus Ranches in Yakima, Wash. — offering notes of citrus and tropical fruit, paired with a clean and crisp palate.
May 2014
Two Beers Brewing's re-releases its Alta Series Ascension Triple IPA, ringing in at 12 percent ABV and 100+ IBUs. Over at its sister company, Seattle Cider Company releases Washington Heirloom cider featuring aromatic Winesaps and pleasantly acidic Newtown Pippins from the Yakima Valley, in addition to seven varieties of traditional French and English cider apples grown at WSU's extension campus in Mount Vernon, Wash. Two Beers sources nearly 95 percent of its ingredients from Washington, including 100 percent of its base grain and hops.
June 2014
Two Beers Brewing announces the addition of a new summer session ale to its lineup of 12-ounce cans, as well as two new brews inspired by summer. Day Hike Summer Session Ale joins the brewery's tried-and-true Trailhead ISA in can form as a perfect beer for backpacking and hiking. For enjoying on the patio or in a pint, Wildside India Pale Lager – available in 22-ounce bottles and on tap – and the draft-only Pilchuck Pilsner are released too. Wildside summer seasonal utilizes the malt profile of a pilsner and a hop bill of Legacy and Columbus in the tradition of a Northwest IPA. Pilchuck is a Czech-style pilsner, hopped with Saaz and Perle hops.
November 2014
At its seven-year anniversary party, Two Beers celebrates not only the release of two limited edition beers, but also the signing of the lease on a brand new space, allowing the growing brewery to expand its production and tasting room size. The 7th Anniversary American Sour Ale is a golden sour aged in white wine barrels for 15 months; this rare and delicious beer features aromas of apricot, cherry and cranberry, alongside herbal notes of cedar and hay. The Alta Series Overhang Bourbon Imperial Porter is re-released. Two Beers Brewing's brand new tasting room — being built out in the space right next door — will be double the size of the current tasting room, offering more than 24 taps, seating for nearly 100 people, an outdoor space, and games such as pool, skeeball and more. In turn, the current tasting room will be converted to additional production space. The new tasting room will remain known as The Woods.
March 2015
Two Beers releases its newest seasonal can, Cold Brew Coffee Brown Ale. A chocolaty brown ale infused with locally roasted beans from SoDo-neighbor Fulcrum Coffee, this Seattle-inspired beer is subtly sweet with a cold brew kick. Cold Brew Coffee Brown Ale becomes the brewery's third seasonal can, joined by Day Hike Summer Session Ale (summer) and Grey Skies Dark Pale Ale (winter). March also brings the return of the brewery's popular Forester IPA and Trailhead ISA.
June 2015
Founded in 2007 and 2013 respectively, both Two Beers Brewing and Seattle Cider Company now cohabitate the same physical space. The expanded shared tasting room, The Woods, opens June 13 — next door to the current one. More than doubling its space to 2,800 sq. ft., The Woods embodies its name with custom wood and ironwork throughout. Offering an expanded 24 taps and seating for 99 people, the new tasting room features a range of bar games, including pool, darts, foosball and shuffleboard. Additional features include a raised dining area, space for projection movies, a dedicated retail space and more. Outside, a permanent arbor seats 68 people, adorned with apple trees and hop vines from local farmers.
August 2015
Two Beers re-releases its Fresh Hop IPA — its seventh season on the brewery's fall lineup. A hyper seasonal, Fresh Hop IPA is know for its intense hop flavor and unique brewing process, which involves a same-day round trip car ride to Yakima, four hours of picking fresh hops off the vine and a 24-hour brewing process. August also marks the release of its Pumpkin Spice Ale.
Five Two Beers Brewing Beers You Should Check Out
Immersion Amber
A bright, ruby-colored Northwest-style amber ale with a clean caramel character that finishes with soft citrus notes – courtesy of Yakima Valley Chinook and Cascade hops. IBUs: 27; ABV: 5.2%
Crooked Belgian Wit
Brewed with fresh ground coriander and dried orange peel with a distinctive cloudy appearance and authentic Belgian yeast strain, Crooked Belgian Wit is a Two Beers Flagship beer and continues to be a seasonal favorite. IBUs: 17; ABV: 5.2%
EVO IPA
A Northwest IPA hopped with Yakima Valley Simcoe, Amarillo and Centennial, then aggressively dry-hopped with Simcoe and Columbus.  Deep copper in color, it boasts a deep floral aroma with strong notes of grapefruit and tangerine citrus on the palate. IBUs: 70; ABV: 6.2%
Trailhead ISA
This India-style Session Ale is a light body, low-alcohol beer with a substantial Yakima Valley Columbus and Palisade dry-hop for an expansive citrus aroma. IBUs: 48; ABV: 4.8%
Cold Brew Coffee Brown Ale
Starting with a base of chocolaty brown ale, the beer is run through a second fermenter containing 18 pounds of course ground single origin Ethiopian Harrar roast beans per batch from Fulcrum Coffee. Low in acidity and subtly sweet due to the cold brew process used, a rich coffee nose and flavor shines through, lingering on the palate. IBUs: 18; ABV: 5.2%