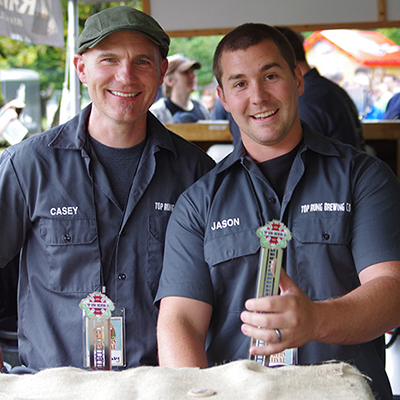 8343 Hogum Bay Ln NE, Lacey, WA 98516, United States
Biography
Established: 2014
Owners: Casey Sobol and Jason Stoltz
Brewers: Head brewer Jason Stoltz, Casey Sobol
Location: 8343 Hogum Bay Lane NE, Lacey WA 98516
Specialty: Producing quality craft beer with an open view for taproom customers — when not fighting fires or rescuing people.
Five Notable Beers: Lacey Lager, Three-Sixty Red, My Dog Scout Stout, Prying Irons IPA, Pyrolysis Imperial Stout
Awards: 2015 Washington Beer Awards, gold, My Dog Scout Stout
Fun Facts:
>>> Casey Sobol and Jason Stoltz are career firefighters (24 years for Sobol and 10 for Stoltz). They began brewing in a garage between shifts at the McLane/Black Lake Fire Department.
>>> The ladders Sobol and Stoltz used at the fire department are hanging in Top Rung's taproom.
>>> Casey Sobol and Jason Stoltz won the 2012 Beer for a Cure brew contest at Dick's Brewing Co., which encouraged them to work on opening a brewery.
Top Rung is 10-barrel brewery with a barrel-aged program and a firefighting-theme, family-friendly tasting room. Bring your own food, although food trucks park in front Thursday-Saturday. The brewery's flagship brands are available in 22-ounce bottles; kegs and growlers are also available. Every Thursday they run a Top rung beer through a Randall loaded with fresh ingredients.