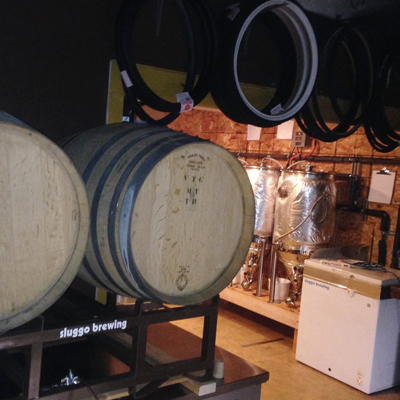 2712 6th Ave, Tacoma, WA 98406
Biography
Established: 2015
Owners: Calvin Tribel, Josh Norris
Brewers: Head brewer Calvin Tribel, Ronnie Castro, Josh Norris
Location: 2716 Sixth Ave., Tacoma WA 98406
Specialty: Too soon to say, but Sluggo says it leans toward dark beers
Five Notable Beers: Roadrash Red, Pedal Power Porter, First Place Pale, CDA, Lemon Peeler IPA
Awards: Not yet
Fun Facts:
>>> Only legal dog-friendly brewer in Tacoma, due to the use of recyclable cups.
>>> Sluggo Brewing doubles as a vintage bike store and skateboard shop.
>>> Josh Norris owns Half Pint Pizza Pub next door, where Sluggo Beer is on tap.
Housed in the former Sluggo Music space, Sluggo Brewing operates on a 1-barrel electric system. The Tacoma brewery began with three 1-barel fermenters, but has since installed two 2 -barrel fermenters. The taproom is outfitted in thrift-store furniture; kids are welcome, as are dogs. No food is served, but Half Pint Pizza delivers.