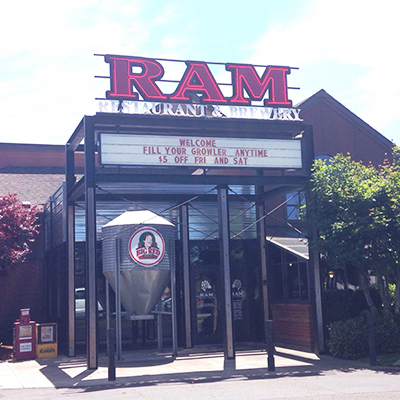 RAM Restaurant and Brewery
10019 59th Ave SW, Lakewood, WA 98499, United States
Biography
Established: 1971 (restaurant) 1995 (brewery)
Owners: Employee owned, RAM President Jeff Iverson, COO Dave Iverson,
Brewer: Company head brewer Dave Leonard
Location: Headquarters – 10019 59th SW, Lakewood, WA 98499. Restaurant and brewing locations locally here in Washington, plus Oregon, Idaho and four other states.
Specialty: The Ram is known for its burgers and beer-infused dishes, as well as Big Horn beers.
Five Notable Beers: Blonde Ale, Hefeweizen, Big Red IPA, Total Disorder Porter, 71 Pale Ale
Awards:
Ram Brewing has earned over 190 awards from 1996 to 2019.
Fun Facts:
>>> RAM founders Cal Chandler and Jeff Iverson, Sr. are former Shakey's Pizza employees and fraternity brothers
>>> Dec. 22, 2014
The RAM Family of Restaurants and Breweries became an employee owned company in December 2014.
>>> Founded in 1971 in Lakewood, Washington, RAM has grown to more than 30 restaurants with three distinct brands across six states; The RAM Restaurant & Brewery in Washington, Oregon, Idaho, Illinois and Indiana, and C.B. & Potts Restaurant & Brewery in Colorado.
>>> The RAM purchased the old Nisqually Power Station building in downtown Tacoma at 2416 S. C St.
>>> 2020 marks 25 years of independent brewing.
>>> Ram Brewing now has 11 brewing sites, ranging from 7 BBL to 15 BBL in size that produced 15,000 barrels of beer in 2019. In most places, the beer served in the restaurant is brewed on site.
Cal Chandler and Jeff Iverson, Sr. opened the Ram Pub in Lakewood's beloved Villa Plaza in 1971. The Villa Plaza became the Lakewood Mall in the late '80s. The Ram Pub moved 200 yards north and become the RAM Restaurant — and in 1995 added "Brewery" to the title after the Salem, Ore. RAM found success with an in-house brewery. Over the years, the full-service RAM restaurants — with menus of burgers, sandwiches and craft beer — began opening locations up and down the Puget Sound. Then it was in Oregon and Idaho. Then in locales father east. Today, Dave Leonard is head brewer for all RAM locations, but each facility also has its own brewer. Pacific Brewing & Malting Co. head brewer Bethany Carlsen and sales executive Andy Kenser came from RAM brewing experiences.