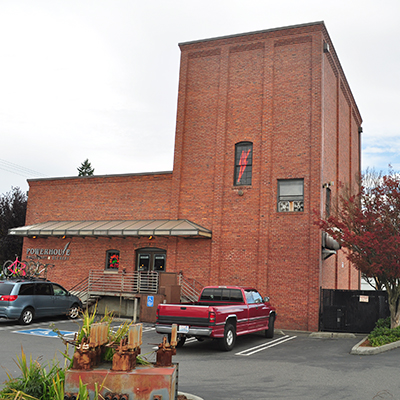 Powerhouse Restaurant and Brewery
454 E Main Ave, Puyallup, WA 98372, United States
Biography
Established: 1995
Owners: Jonathan Tweten, Daniel Tweten
Brewers: Tim Patty, Tristan Canty
Location: 454 E Main, Puyallup, WA 98372
Specialty: Cutting-edge craft beers in a former historical power generating building
Five Notable Beers: Coco Loves Nitro Stout, No Fruit Was Harmed IIPA, Ezra Meeker Fresh Hop IPA, Scottish Ale, Bourbon Barrel Russian Imperial Stout
Awards: 2013 Tacoma Craft Beer Festival Dark Gold; Best Brewpub in the West 2000
Fun Facts:
>>> Building was constructed as Puyallup substation for the Interurban Electric Trolley in 1907. It later became a Puget Power substation that routed electricity to the Puyallup Valley until it was abandoned in 1970. It's the first building added to the City of Puyallup's historic register.
>>> It's Puyallup's original craft brewery.
>>> Outdoor patio seating (weather permitting), all ages welcome, and serves eclectic food from around the world.
Dusty Trail, who at the time owned the Engine House No. 9 in Tacoma, converted the sturdy former red-brick Puget Power substation into the Powerhouse in 1995. He installed a gravity-fed brewing system that took advantage of the building's high-rise L shape. The restaurant filled the ground floor, and Trail's interior design paid homage to the 1907 substation for electrical trains without being kitschy. Today, the Twetens own the Powerhouse, a 7-barrel brewery and restaurant, with growlers to go.