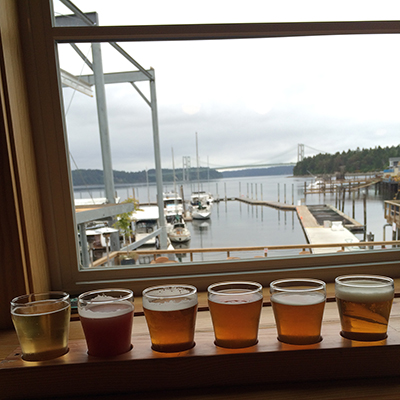 9007 S 19th St, Tacoma, WA 98466, United States
Biography
Established: 2013
Owners: Scott and Sue Wagner
Brewers: Matt Rhodes, Sean Collins, Zach Dowling
Location: 9007 S. 19th St., Tacoma, WA 98466
Specialty: Besides the waterfront view of the Narrows bridge, consistency and balance
Five Notable Beers: Belgian Blonde, Giant Pacific Octopus IPA, Area 13 Experimental IPA, Orca Mike Red, Ring of Fire IPA
Awards: 2016 Capital Food & Wine Festival, Best in Show, Doublewood Strong
Awards: 2017 Washington Beer Awards – Silver, Ghost Jelly Pale Ale
Fun Facts:
>>> Husband and wife team
>>> The brewery is built on wood pilings next to Narrows Marina above the Narrows waterway.
>>> Octopus décor everywhere, as the Giant Pacific Octopus is most commonly found under Narrows Bridge
>>> Narrows Brewing opened with Joe Walts as head brewer, but his home state of Wisconsin called him back. Walts returned to work for his former employer, Ale Asylum Brewing.
>>> Narrows' Neighborhood Series features brews named for our favorite local spots like Proctor District, Central District IPA, Hilltop Haze Double IPA, and Fircrest IPA
The Narrows Brewing Company is a 15-barrel brewhouse with a 20,000 square foot space for barrel-aging storage and a new Infantile barrel age system. Part of the historic mill building at Tacoma's Narrows Marina, Narrows Brewing Company's Taproom and Brewhouse looks out at the waters of the Puget Sound. Enjoy free 700 feet of guest docking.
Narrows offers a rotating selection of 14 taps – including craft beer, cider and wine, trivia nights, special events and a relaxing atmosphere. If you are hungry, you can order from Boathouse 19 next door or bring in other outside food.
LINK: Narrows Brewing archives