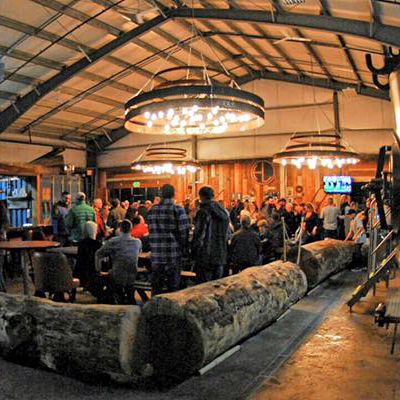 1723 W Valley Hwy E, Sumner, WA, United States
Biography
Established: 2016
Owners: Adam Shay, David Westby, Jason Nelson
Brewers: Adam Shay and David Westby
Location: 1723 W Valley Hwy E., Sumner, WA 98390
Half Lion Public House Location: 2019 W Meeker Street, Kent, WA 98032
Specialty: Northwest inspired ales.
Five Notable Beers: Logshow Blonde, Lloyd Pale Ale, Target Tree IPA, Albert's Amber, Lahar Stout
Fun Facts:
>>> Outdoor seating for the warm months with a view of Mt. rainier from the front door.
>>> Handsome, woodsy Indoor seating — right in the middle of the brewhouse, and kid-friendly.
>> The brewery's name came about after a full day of skiing and a discussion about Great Danes and the reasons why they are so big… perhaps some beer was involved on that day too!
>>> Sumner tasting room is built from shipping containers, recycled lumber, and saw blades.
>>> In 2019 Half Lion opened their Public House, a full bar and restaurant at Riverbend Golf Complex.
Half Lion Brewing brews on a 10 bbl system with Woodinville Whiskey barrels for aging.