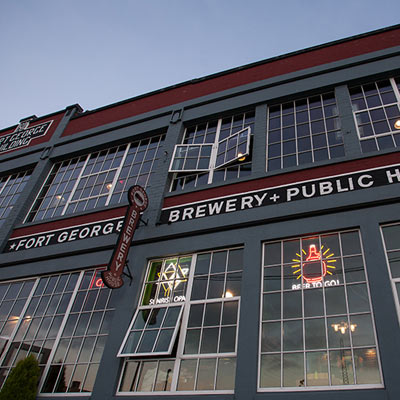 1483 Duane St, Astoria, OR 97103, United States
Biography
Established: 2007
Owners: Homebrewer Chris Nemlowill apprenticed under brewer Jack Harris at Bill's Tavern in Cannon Beach, Oregon. Together, they took a beat up empty building on the east side of Astoria, Oregon, installed a brew system and a kitchen, and then opened the doors of the Fort George Brewery + Public House in March 2007.
Brewers: Chris Nemlowill and Jack Harris
Location: 1483 Duane St, Astoria, Oregon 97103
Specialty: Fort George Brewery brews the best craft beer they can while being as organically conscious and sustainably responsible as they can with one foot strongly planted in the community.
Five Notable Beers: Vortex IPA, Cavatica Stout, 1811 Lager, Big Guns Session IPA and The Optimist IPA
Awards:
2016 World Beer Cup silver Hellcat Belgian Tripel
2015 Oregon Beer Awards, bronze, Cavatica Stout; bronze, 3-Way IPA; silver Suicide Squeeze IPA
2020 Oregon Beer Awards: Gold, Fanzine IPA, Best Beer Festival – Festival of the Dark Arts.
2019 Oregon Beer Awards: Best Beer Festival – Festival of the Dark Arts.
2018 Oregon Beer Awards: Gold, Funeral Pyre, Best Beer Festival – Festival of the Dark Arts.
2017 Oregon Beer Awards: Best Beer Festival – Festival of the Dark Arts.
2016 Oregon Beer Awards: Silver, Quick Wit, Best Beer Festival – Festival of the Dark Arts
Fun Facts:
>> In 2006, Chris Nemlowill and Jack Harris flew to Virginia Beach, Virginia to salvage a 8.5-barrel Saaz system and drive it across the country to its new home in Astoria. While traveling with the equipment strapped to a flat bed, they met up with a tornado that nearly spread the brewery across a Nebraska cornfield. This became the inspiration behind the name Vortex IPA. Before the tornado, though, their U-Haul broke down in Rabun County in northeastern Georgia. The tow truck diver said, "You're not from around here are you?" They replied, "No, we're from Astoria where The Goonies was filmed." The tow driver replied, "Well, you're about 30 miles away from where Deliverance was film. You best get out of here."
>> Fort George Brewery's main building, the Lovell Building, was originally built in 1921 to house the expanding Lovell Auto Co. As fire devastated the downtown core in 1922, drastic measures were taken to save this new building. Coincidentally, the Lovell Building owner had 100 fire extinguishers on hand. Vigilante firefighters set fire to buildings surrounding the fire to prevent the whole town from burning down. As the firefighters approached the Lovell, the building owner raced to his roof with a shotgun. He warned the firefighters to back off. Many Astoria businesses lost their storefronts to the fire, and the Lovell Building transformed itself into a cultural hub for the city, housing the Lovell Arcade and the Blue Mouse Theater. The building remained an automotive dealership and repair facility until the late 1990s.
>>> Home of the annual Festival of Dark Arts, a "Carnival of Stout with over 70 rare and unique offerings from 50+ breweries all packed into one block in downtown Astoria, Oregon." In addition to the delicious beer selections, festival attendees are treated to artisans of all styles, fire dancers, ice sculptors, and contortionists. Live music plays on multiple stages. The festival is just one event during the brewery's Stout Month.
The Story:
Astoria, Oregon, home of The Goonies, also harbors Fort George Brewery, a salute to the temporary name of Astoria when a British fur trading company was in charge and called it Fort George, back in 1812. The brewery opened in March 2007 with "Sweet Virginia," an 8 1/2-barrel brewing system so named after co-owners Chris Nemlowill and Jack Harris flew to Virginia Beach, Va., hired drivers to take the system back on a flatbed truck and followed them in a U-Haul back to Oregon, driving through a tornado in Nebraska. In 2010, the duo bought the neighboring Lovell Building installing a 30-barrel brewhouse for the heavy brewing, switching Sweet Virginia to small-batch brewing. Since then, Fort George know owns a whole block in Astoria.
Links:
Fort George and Grains of Wrath Launch Fanzine IPA
Fort George Brewery to Expand on Astoria's Waterfront