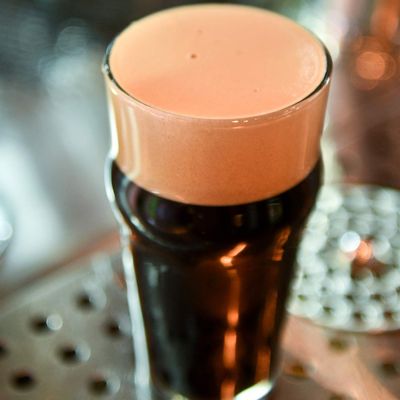 Style: Sweet Stout
ABV: 4 – 6%
IBU's: 25 – 40
Aroma: Take a whiff of my mild roasted grain aroma, often with coffee and/or chocolate notes. An impression of cream-like sweetness often exists.
Appearance: heck me out. I'm very dark brown to black in color. Can be opaque (if I'm not, I should be clear). I sport a creamy tan to brown head.
Flavor: Typically, I have a dark roasted grain/malt impression with coffee and/or chocolate flavors dominate the palate. Hop bitterness is moderate. Medium to high sweetness provides a counterpoint to the roasted character and hop bitterness, and lasts into the finish.
Mouthfeel: My mouthfeel is medium-full to full-bodied and creamy, with low to moderate carbonation. High residual sweetness from unfermented sugars enhances my full-tasting mouthfeel, yo.
Brew Information
OK, look. You're up to your neck in it, right Sweet Stout? Too many demands to perform the fluffy head trick, thinking you and Guinness are tight. Too many trips through the effing blender with that no-good Dreyer's. Straw? I know. You're all up in the sugar and the sugar is all up in you and sometimes you spin and whirl and just can't seem to find the bottom of the glass. Right?
Then there are those who quip, "Got Stout?" and laugh their ass off. Others mutter "udderly delightful" under their breath. Yea, I get it. You have been called the "mother's milk" of beer. Your style has evolved over more than a century, and much of your character comes from the addition of milk sugar, aka lactose. You can hear the wiseasses remark, "I asked for a beer, not a cup of coffee with half a creamer cup and three packets of sugar."
Egad. Oh, but look at their faces after one sip of your sweet bad self, Sweet Stout. Who's laughing now?
And you can always brag up your lineage. Thanks to Papa Porter.
In the early 1700s, London pub patrons drank a blend of various available brews, called "Three Threads," using a third of a pint each of ale, lager and a strong brew called "Twopenny." Eventually, bartenders told the Three Threadheads to take a flying leap off the London Bridge. Around 1730, a brewer named Harwood came up with a solution. He re-created the flavor of Three Threads into a single craft beer called "Entire" before it reached the pub. This beer came to be loved by porters and other physical laborers, and so earned its name, Porter. Porter differed from common Sweet Brown Ales in its dry, aged character and full dosage of hops. Unlike regal Pale Ales, Porter ran with the rougher, cheaper dark malt crowd. Porter kicked ass, dominating the market for more than 100 years. And much like "The Bionic Woman" and "Frasier," Porter had spin-offs. There were Plain Porter, Stout Porter, Brown Stout and Double Stout, among other terms. Stout (strong) Porters eventually became known simply as Stout, and regional characteristics further delineated the style, including you, Sweet Stout.
I'm here to tell you Sweet Stout you have plenty going on at the surface, and even more going on underneath. Stand stout.
You were created more by a preference for mild ale rather than one for black beers. You are not a hoppy beer, but just bitter enough to subdue some of your malty sweetness. Your malt flavor is dominated by said roasty dark malt, often giving you a sweetened espresso flavor, which I applaud. Your alcohol by volume rings in between 4-6 percent.
OK, you have milk in you. Sort of, anyway. Brewers intensified your dark, chocolaty malt body with lactose, the sugar in cow's milk, hence why you are more often called Milk Stout. Brewer's yeast can't ferment lactose into alcohol, so it hangs around to give you a rich mouthfeel and a soft, creamy sweetness, balancing out the bitter and roasted qualities typical of your cousin Stouts. Makes sense. Heating milk to very high temperatures, which also has the effect of caramelizing some of the milk's sugar, makes evaporated milk. That sugar is the same lactose found in Milk Stout, and is subjected to similarly high temperatures during the brewing process. I also detected an interesting tang in you, and I can't help but wonder if this is attributable to the lactose as well, as lactose will ferment into lactic acid in the right conditions. Whatever. Done right, you can be extraordinary.
You were commonly marketed as nutritious, even promoted, as something nursing mothers should consider. That didn't go over well. By the mid-1900s, the United Kingdom had posters of you hanging in post offices, outlawing the use of the word "milk" in association with you. Also, Sweet Stout, you are obviously not the beer of choice for the lactose-intolerant, but for stout lovers, you're difficult to pass up. Let's not dwell on these issues.
You are not only the perfect beer for pairing with sweet items, but also an ideal ingredient for dessert dishes. That said, you're pretty filling and quite satisfying as a dessert all by yourself.
So keep you head high, Sweet Stout. November is one of the few months without a dedicated beer style. We're almost over pumpkin beers, and Christmastime beers don't suffer the same early creep as the rest of the things associated with that holiday. Maybe you could ride the Movember mustache prostate cancer movement. Why not add you to the mix? Encourage men to go even more go balls-out manly by adding Milk Stout to their upper lips. Think on it.
Vital Statistics: OG: 1.042 – 1.056, FG: 1.010 – 1.023, IBUs: 25 – 40, SRM: 30 – 40+, ABV: 4 – 6%
Commercial Examples: There are a few of your true versions I enjoy most in the English pint glass at 50-55 degrees:
The Belching Beaver Peanut Butter Milk Stout, San Diego, Calif.
Dick's Brewing Company Cream Stout, Centralia, Wash.
Elliott Bay Brewing Co. No Doubt Stout, Seattle, Wash
Fort George Brewery Long Dark Winter Milk Stout, Astoria, Ore.
Hop Valley Brewing Co. Galactose Milk Stout, Eugene, Ore.
Left Hand Brewing Company Milk Stout Nitro, Longmont, Colo.
Puyallup River Brewing Mud Mountain Milk Stout, Puyallup, Wash.
Narrows Brewing Turkish Coffee Stout, Tacoma, Wash.
Ninkasi Brewing Noir, Eugene, Ore.
The Portsmouth Brewery Milt Stout, Portsmouth, New Hampshire
Terrapin Beer Co. Moo-HooChiato, Athens, Georgia
Tree House Brewing Co. LLC That's What She Said, Monson, Mass.
Widmer Brothers Brewing Milk Stout, Portland, Ore.
The list of my favorite Imperial Milk Stouts is even longer.
To summarize, Sweet Stout, I think Woody Allen said it best when he stated, "I am thankful for laughter, especially when Milk Stout comes out my nose."
Cheers.