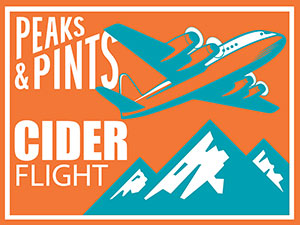 Incline Cider Company is about a week away from opening their new Incline Cider House at the Brewery Blocks Tacoma, 2115 S C Street across from the Holiday Inn Express. Production operations will continue in Auburn with the Brewery Blocks Tacoma location being a cider-focused tavern featuring ciders, beer and wine from the Pacific Northwest. Incline co-founder Jordan Zehner and his crew will take a moment away from final preparations to hang at Peaks and Pints today. As a continuation of our 12-day Washington Cider Week celebration we will host Peaks and Pints Washington Cider Week Social: Incline Cider Company from 4-6 p.m. Stop by to enjoy the cidery's craft on tap, as well as a Washington Cider Week Fight: Incline and Friends.
Washington Cider Week Fight: Incline and Friends
Incline Ginger Lime
6.2% ABV
It's rumored Key limes were introduced to Florida in the 1830s by Henry Perrine, a botanist and diplomat who discovered the plant in Mexico. Of course, key lime pie can be found on almost every menu in the Sunshine State. Key limes can also be found in Incline Cider's new Ginger Lime cider. Starting with a traditional apple cider base, Incline adds an infusion of ginger and key lime to the mix for all the ginger and lime on the finish.
Incline Cider Compass Rosé
6.5% ABV
Bringing together hibiscus, elderflower, ginger and rose petals, the Auburn, Washington cidery Incline Cider created a bright and sophisticated cider with a pink hue. Compass Rosé is a moderate acidity, mild flavor intense on the sweeter side of semi dry cider. It leads with notes of grape, watermelon and strawberry to start. As it warms, a hint of hops and some floral and herbal flavor emerge. It's more fruity than floral.
Incline The Scout Hopped Marionberry Cider
6.5% ABV
Sticking to the Northwest, Incline adds berries bred straight out of the Oregon Willamette Valley: marionberries. Pouring a perfect shade of deep purple-ish red, The Scout Hopped Marionberry Cider's aroma, via the hops, gives off a beer scent along with a rich berry. Marionberry, the bold cousin of blackberry adds, sweet fruitiness that gently balances with the crisp apple and bitter hops of the cider.
Schilling Grapefruit and Chill
6% ABV
In 1881, Colin Schilling's great-great-grandfather, August, founded the Schilling Spice Company in San Francisco, with a goal of bringing pure, natural spices to everyone at a fair price. Today, at Schilling Cider, August's core values are carried forward and paired with innovative cider-making techniques to produce quality and complex hard ciders that, according to media hype, is the number on selling craft cider with three taprooms — Auburn, Seattle and a 50-tap cider house in Portland — and retail in 20 states. Think about all that plus the fact that Schilling uses only 100 percent fresh pressed apples, locally sourced non-GMO ingredients, and individually hand-selected yeast strains with beer yeast rather than wine yeast (Schilling likes beer yeast rather than wine yeast for the malt flavor) as you enjoy this light, semi-sweet, smooth cider made with fresh-pressed apple juice, Non-GMO sugar and essential oils of lime, grapefruit, citric acid and hibiscus.
Tieton Pure Pear
6.5% ABV
Tieton Cider Works takes advantage of its location. In Yakima Valley, the hot and dry days in the summers make it the perfect place to grow pears. Pure Pear is an effervescent beverage that pours a soft straw color with a lightly laced rim. Orange blossom honey and rose petal fill the nose, while the palate is greeted with lively citrus, passionfruit, and pear, along with a long, slightly sweet finish.
---