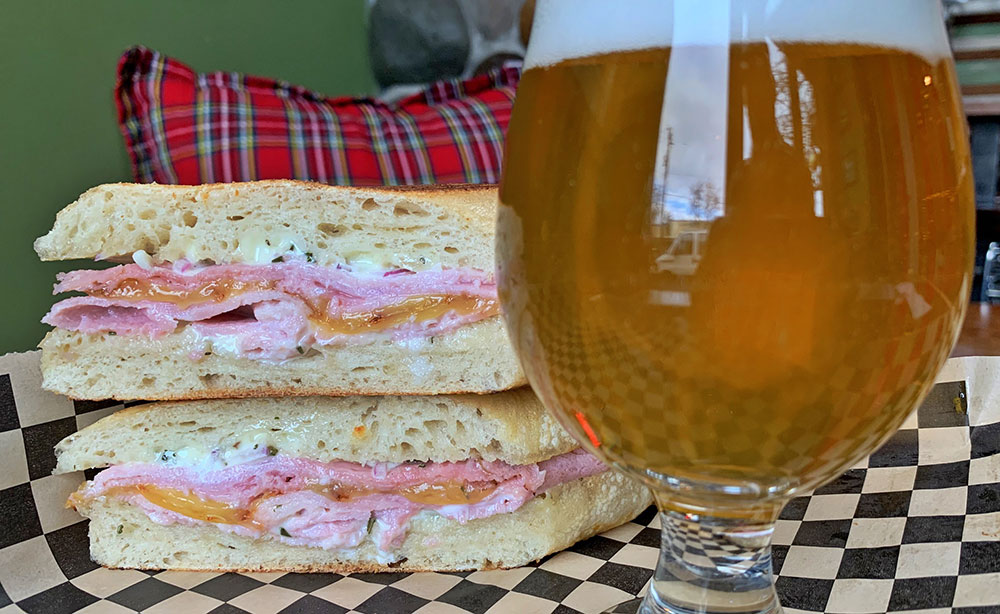 Tacoma Sandwich Special of the Day: Believing in Ham
TUESDAY, JAN. 4 2022: Sometimes, nothing else will do. You have your mind set on a ham, Gouda, rosemary mayo, and red onion on a rustic French baguette, and you will go anywhere (bottle shop in the Proctor District), do anything (drink craft beer from a Western red cedar log) just to scratch that itch.
PAIRING: Lumberbeard Brewing Having the Believing
Lumberbeard Brewing's Having the Believing traditional Belgium saison — with its banana, lemon meringue pie and clove flavors with a dry finish —is on tap and ready to pair.
THING TO DO: Because of COVID, Peaks & Pints isn't fully staffed and has postponed table service. Please you're the QR codes at the tables and order from the bartenders behind the bar. Call ahead at (253) 328-5621 for pick-ups. Cheers!
LINK: Peaks & Pints full menu
More draft choices!
1

Argyle

Pinot Noir, Willamette Valley

13.5%

Just Tapped

2

Proletariat

Sangiovese

USA

Walla Walla, WA

12%

Just Tapped

3

Alexandria Nicole

Sauvignon Blanc

Woodinville, WA

13%

Just Tapped

4

GTs

Gingerade

Kombucha

Beverly Hills, CA

0%

Just Tapped

5

Bluebeard Coffee Roasters

Nitro Cold Brew Coffee

Cold Brew Coffee

Tacoma, WA

Just Tapped

6

Rainier

Mountain Fresh Rainier Beer

Lager

Seattle, WA

4.73%

IBU

Just Tapped

7

Double Mountain

Tossed Apples

Heritage

Hood River, OR

7.3%

Just Tapped

8

Ciderboys

Blackberry Wild

Blackberry Cider

Stevens Point, WI

5%

Just Tapped

9

Finnriver

Solstice Saffron

Cider

Chimacum, WA

6.5%

Just Tapped

10

Tilquin

Quetsche

Lambic

Bierghes, Belgium

5.3%

IBU

Just Tapped

11

Block 15

We All Need To Do Better

Saison Black Currant

Corvallis, OR

7%

IBU

Just Tapped

12

Double Mountain

Westerly

Pilsner

Hood River, OR

5.2%

25 IBU

Just Tapped

13

pFriem

Vienna Lager

Lager Vienna Lager

Hood River, OR

5.3%

20 IBU

Just Tapped

14

Unibroue

Blanche De Chambly

Witbier

Chambly, Quebec

5%

10 IBU

Just Tapped

15

Sierra Nevada

Pale Ale

Pale Ale

Chico, CA

5%

38 IBU

Just Tapped

16

Old Schoolhouse

Between Peaks IPA

IPA

Winthrop, WA

7%

IBU

Just Tapped

17

Ravenna

Flip The Script

Hazy IPA

Seattle, WA

7.8%

IBU

Just Tapped

18

Fort George

Skies of Wonder: Int'l Lover

Double IPA Hazy

Astoria, OR

8.7%

IBU

Just Tapped

19

Stoup

Commercial Break

IPA

Seattle, WA

6.5%

63 IBU

Just Tapped

20

Lumberbeard

What Once Was

Double IPA

Spokane, WA

8.3%

IBU

Just Tapped

21

Reuben's

Metamodern

Amber/Red Ale

Seattle, WA

5.5%

IBU

Just Tapped

22

SiG Brewing

Neighbor Nelson's

Milk Stout

Tacoma, WA

6.4%

IBU

Just Tapped

23

Stone

Sublimely Self Righteous

Imperial Black IPA

Escondido, CA

8.7%

90 IBU

Just Tapped

24

Block 15

Specular Reflections

Belgian Dubbel

Corvallis, OR

6.5%

IBU

Just Tapped

25

Pelican

Mother of All Storms

English Style Barleywine - Barrel Aged (Bourbon)

Pacific City, OR

14%

40 IBU

Just Tapped

26

Maritime Pacific

Black Jolly Roger

English Porter

Seattle, WA

6.4%

38 IBU

Just Tapped

27

Belching Beaver/Coronado

SD Besties

Neapolitan Imperial Milk Stout w/ Chocolate, Strawberry & Vanilla

Vista, CA

8.5%

IBU

Just Tapped

28

Lucky Envelope

Peanut Butter

Cream Stout

Seattle, WA

6%

34 IBU

Just Tapped
---