Sierra Nevada to Torpedo Hunger with Feed253
Even though iconic California brewery Sierra Nevada spearheaded the craft movement with the launch of its still-relevant Pale Ale in 1980, and has grown substantially in style, the Chico-based brewery continues to give back with beer for benefits programs such as their Resilience IPA to support those affected by the most devastating wildfire in California's history, Camp Fire, and Dankful, a resinous West Coast IPA that supports nonprofits standing up for social equality, economic well-being, and environmental protection. In Tacoma, Sierra Nevada Sales Executive R.J. Adler has received the blessing from Chico to aim Sierra Nevada's Torpedo Extra IPA at feeding Tacomans in need via Feed253, a 100 percent volunteer operated non-profit organization founded by Heidi Stoermer. Peaks & Pints has tapped Torpedo Extra IPA for a week-long run with two dollars from every Torpedo pint poured at Peaks feeding Feed253 leading up to a Torpedo Hunger with live raffle at Peaks & Pints Thursday, Dec. 15.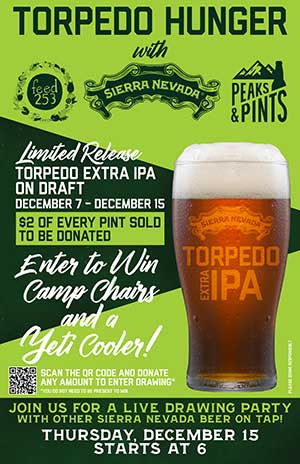 "It's exciting to receive a very limited amount of Torpedo draft in this market after so long, and it's even more exciting to bring it back for the benefit of a great, local nonprofit like Feed253," says Adler, a longtime Tacoman who recently was interviewed on the beer centric The Grit & Grain Podcast. "They work hard all year long, but especially hard during the holidays. We will be matching Peaks & Pint's generous $2 per pint donations, so you get to drink a great IPA for a great cause. Let's 'Torpedo Hunger' as a community!"
Scan the QR Code on the Torpedo Hunger posters at Peaks & Pints and donate any amount to be entered into the drawing.
In 2009, Stoermer and co-founder Karin Dhaease, coworkers at the time, organized an office "ThanksGIVING Food Drive" collecting funds from friends, coworkers, and family before shopping at a local grocery store. A friendly butcher discounted 25 turkeys, which the duo donated, along with fixings, to the Tacoma Rescue Mission. The good deed fed Stoermer and Dhaease's souls. They've held Thanksgiving food drives every year since, renaming their effort "Feed253." Their food drives have been scaled-up dramatically, with added fundraising efforts during the fall and winter.
"We now cook year-round for the domestic violence support program and provide supplies for a community group that cooks and distributes meals to our houseless neighbors on Hilltop Tacoma three times a week," adds Stoermer, who initially connected with Adler during a Feed253 fundraiser several years ago at the Parkway Tavern in Tacoma.
Per Peaks & Pints, the Dec. 15 Torpedo Hunger Party will satisfy enthusiasts of The Great Outdoors with a Sierra Nevada Tundra Yeti cooler and camp chairs as the drawing prizes. Adler from Sierra Nevada and Feed253 will be in house for the live drawing, which starts at 6 p.m.
"We will have plenty of Sierra Nevada on tap at Peaks, and a live drawing," adds Adler. "You don't have to be there to win, but it would be cool if you were. …"
To learn more about Feed253's commitment to ending hunger in Tacoma, visit feed253.org or their Facebook page for upcoming events and fundraisers to benefit those in need. A similar Torpedo Hunger event with different raffle prizes will be held at The Red Hot Wednesday, Dec. 28.
Feed253 started as a labor of love with the intentions of giving back to those most in need throughout the holiday season. The pints of Torpedo Extra IPA are icing on the cake box donations.
TORPEDO HUNGER, 11 a.m. to 11 p.m. through Thursday, Dec. 15, drawing party at 6 p.m. Dec. 15, Peaks & Pints, 3816 N. 26th St., Basecamp Proctor, Tacoma
LINK: Peaks & Pints cooler inventory
---