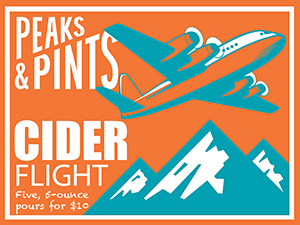 During Prohibition, three-fourths of America's apple orchards were cut down, and cider makers no longer had enough fresh fruit when the alcohol ban was lifted in 1933. With few exceptions, only culinary apples grown for cooking and eating fresh remained. Today, consumers are gravitating back to hard cider because it represents a sustainable, locally grown, gluten-free alternative to beer. While most consumers know the basics of beer or wine, the cider industry has to overcome some basic misconceptions such as how cider is made and what it tastes like. Hard cider is not brewed like beer; it's fermented like wine. And it tastes good. Today's hard ciders offer far more than apple juice with a kick. Modern takes on this once-familiar alcoholic drink are rocking the adult beverage world. Peaks and Pints presents a flight of ciders today that we call Peaks and Pints Monday Cider Flight 6.11.18: Northwest Cider.
Atlas Dragonfruit
6% ABV
Atlas Cider Co. might forge its ciders in the heart of Bend, Oregon, but it had to reach outside its town to snag some dragonfruit. Dragonfruit, also known as pitaya or the strawberry pear, is a beautiful tropical fruit that is sweet and crunchy. It tastes a bit like a cross between a kiwi and a pear. Atlas' Dragonfruit is a semi-dry cider with mild tartness, moderate acidity and mild bitterness. It tastes like a fruit salad with low apple but pineapple, lime, passionfruit, kiwi and strawberry notes. 
Ole Swede Sour Cherry Pear
6.1% ABV
About a 1,000 people live in Tonasket, a city in Okanogan County, Washington. Lucky them to have Ole Swede Cider in their backyard. Tonasket native Casey Oberg launched Ole Swede Cider on his family farm in 2014. Ole Swede's Sour Cherry pear is naturally fermented and crafted with locally sourced pears and sour pie cherries. This is a dry perry with a hint of residual sugars naturally found in pears that the yeast could not ferment.
Finnriver Sidra
6.5% ABV
Finnriver Farm & Cidery made a Spanish style cider fermented with open headspace in the tank allowing exposure to oxygen, which promotes the wild vinegar bacteria that provide the pungent acetic nose these ciders are famous for. This cider carries acidity from tart culinary apples and a finishing astringency from a touch of oak. Fermented with oak and lightly sweetened with organic cane sugar. This cider begins with aromas of unripened olives up front, offers slightly briny notes on the mid palate and then finishes with gentle nuances of bitter oak and pine needles. Cloudy in the bottle and the keg, the Spanish generally take their cider un-carbonated and at room temperature; Finnriver bends a little and gives this a gentle bubble while allowing the lees to persist and deepen the nutty bitterness.
d's Wicked Cranny Granny
6.9% ABV
Sun River Vintners co-owner Daniel Washam homebrewed a hard cider after his wife, Heidi, discovered she enjoyed the beverage. Washam eventually brought the homebrew project to his Kennewick, Washington winery and d's Wicked Cider Co. was born. Cranny Granny is Washam's handcrafted hard apple cider made with freshly grown Granny Smith apples from the Pacific Northwest and infused with fresh cranberry juice. Cranny Granny boasts an abundance of candied green apple and fresh cranberry aromatics, and leaves the palate with a tart, yet fresh, finish.
Reverend Nat's Viva La Pineapple
6.9% ABV
When his North Portland neighbor begged him to take his backyard apples off his hand in 2004, Nat West began experimenting with fermentation, turning the small green apples into hard cider. His friends went nuts. West would go on to hold weekly free cider parties at his house, experimenting on his friends, which ended up at 50 or so people. In the summer of 2011, West launched Reverend Nat's Hard Cider, most likely the only cidery in Portland. This cider is a blend of fermented fresh apple juice sourced from Eastern Washington and unfermented fresh pineapple juice. A touch of cinnamon, cloves and allspice is added. The spice and pineapple hit the nose and tongue with notes of green apples and pear. Delicious.
---