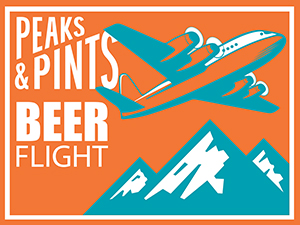 Nothing makes grown-ups want to snuggle more than a slow walk through spectacular animal-themed Christmas lights while sipping hot chocolate under a cold, starry sky. In fact, many folks would pass through the seven levels of the Candy Cane Forest, through the sea of swirly twirly gum drops, and then walked through the Nelson Bennet Tunnel to see this year's ZooLights at Point Defiance Zoo & Aquarium. Through Jan. 2, the Zoo is a colorful winter wonderland with more than 700,000 LED lights representing Northwest landmarks and zoo creatures. In addition, there are whimsical animal scenes; for instance, sledding penguins! ZooLights is open 4:30-10 p.m. nightly through Jan. 2. Last entry is at 9 p.m. As expected, there are smaller crowds, timed admission tickets, masks on everyone 5 and older — and hand sanitizer everywhere. Peaks & Pints has created a to-go flight of holiday-themed beers to enjoy before and after your tour through ZooLights. Stop by and grab Peaks and Pints Pilot Program: ZooLights On The Fly.
Peaks and Pints Pilot Program: ZooLights On The Fly
pFriem Belgian Christmas
8% ABV, 30 IBU
pFriem Family Brewers Belgian Christmas Ale changes from moment to moment. This big dubbel-based holiday ale is brewed with German Perle hops, candi sugar, coriander and Belgian ale yeast that changes flavor with every sip. Just as you think it's a toffee delight it morphs into chocolate-covered orange. Then raisin. And cinnamon pastry. Oh, and dried cherry. And …
Imprint Schmoojee Kringle
6% ABV
On the First Day of Schmoojee Imprint Beer Company gave to you — A Kringle at Peaks & Pints. That's right! The first mystery flavor is Shcoops Chocolate Cherry Pistachio Spumoni, or "Kringle." Here's the deal: Peaks & Pints still has Imprint Beer Company's 12 Days of Schmoojee mystery variety packs of heavily-fruited smoothie sours. Maybe your true love will buy you a Schmoojee Red Box or Green Box to open Christmas morning. But, for those who can't wait, we are also stocking our cooler with individual Schmoojee cans from the 12 Days packs every day after Imprint reveals each mystery flavor, which began yesterday. As noted, Imprint's first of 12 reveals is Kringle, a super luxurious, spumoni-inspired, ice cream fueled fruited smoothie sour — although it's very sweet.
Delirium Noel
10% ABV, 20 IBU
In the town of Ghent sits Brouwerij Huyghe, the oldest, active brewery in that corner of Belgium. The brewery is best known for Delirium Tremens, a highly regarded Belgian strong pale ale, but they produce a wide variety of beers ranging from pilsners, witbiers, fruit ales and lagers. Huyghe's Delirium line of beers is famous for the pink elephant that adorns every label on every ceramic painted bottle. Its Noel labels are no exception. Skiing, sledding, pulling Santa's sleigh; the Pink Elephant does it all. Delirium Noel is a big, spicy beer with a lot dried fruit character and touch of alcohol to let you know that you're drinking a beer with a double-digit ABV.
Port Brewing Santa's Little Helper
9.9% ABV
Port Brewing's "winter warmer" appeals to those who just want a dark, strong imperial stout with hazelnut and coffee and not "holiday spices." This is one seriously thick, rich, naughty but nice beer with sweet hazelnut flavor.
Trap Door HoliDANK
8.5% ABV
Some people like bud, some people like beer, and some like both. Those who are a connoisseur of both have taken to attributing the term "dank," a term that means pungent, funky and odoriferous, to both good weed and very hoppy IPAs. Dank means an extremely overpowering odor that can smell like the citrus and pine flavors everyone loves, including Trap Door Brewing out of Vancouver, Washington. Their winter hazy double IPA HoliDANK is dry hopped with classic dank hops Mosaic, Simcoe, Centennial, and Columbus for all the Piney, floral dankness.
LINK: Peaks & Pints cooler inventory
---