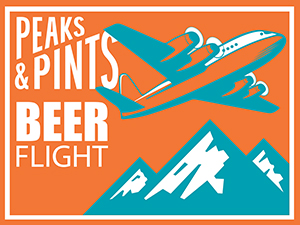 Mat Waddell comes from a long line of brewers and distillers. His great-grandparents were farmhouse bootleggers, and the tradition has been passed down through generations of the Waddell family. In August 2016, after homebrewing for years and earning a master's degree in Mechanical Engineering, Waddell opened Wild Mind Ales in South Minneapolis to deliver funky, wild beers to the region. To make this happen, he traveled around Minnesota to harvest yeast strains from various wild fruit bushes, trees, and wildflowers to create wild, sour, farmhouse, saison, and other rustic-style ales through aging, blending, and mixed-fermentation. Waddell follows the traditional European method of brewing wild ales: through barrel aging in oak barrels in a temperature- and humidity-controlled wood cellar then blended, which produces beers with rich, deep, complex flavors. Today, Peaks & Pints presents a to-go flight of Wild Mind Ales — a flight we call Peaks and Pints Pilot Program: Wild Mind Ales Flight.
Peaks and Pints Pilot Program: Wild Mind Ales Flight
Wild Mind Amplify The Absurdity
5.5% ABV
Wild Mind grabbed their base sour ale recipe and amplified it with raspberry, banana, vanilla, marshmallow, and a healthy dose of milk sugar. The complimentary and contrasting adjuncts come together for a tart, yet sweet and full-bodied wave of "off the beaten path" flavors.
Wild Mind Brain Fuzz
6% ABV
Inspired by the classic Lime Rickey, Brain Fuzz smoothie sour spots tart citrus and sugary cherry melding into a comfy nest of marshmallow sweetness. Luscious and vibrant red and bursting with stone fruit and pithy aromas, expect notes of cherry, lime and vanilla with a lovely carbonation and mouthfeel.
Wild Mind Sonic Painting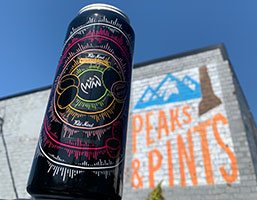 6% ABV
Inspired by eating the slices of fruit from the rim of a tiki drink for the health benefits, this smoothie sour is loaded with mango, red prickly pear, pink guava, marshmallow, and milk sugar with a slight earthiness all blend into a drink reminiscent of early vacation mornings.
LINK: Peaks & Pints cooler inventory
---