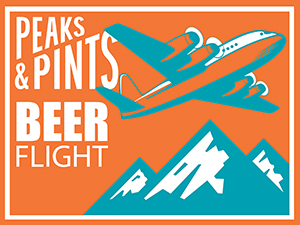 Ohio native and UNSUNG Brewing founder Mike Crea — who is certified by the Cicerone Program and earned a diploma in brewing technology from the Siebel Institute in Chicago — brews small batches of craft beer in Tustin, California, but sells a majority of them up north from a modernized century old marmalade factory in Anaheim, the sudsiest town in Orange County. Founded in 2015, comic book fan Crea drinks West Coast IPAs while watching superhero movies, but he and the crew brews all styles. Today, Peaks and Pints presents a to-go flight of UNSUNG beers that we call Peaks and Pints Pilot Program: UNSUNG On The Fly.
Peaks and Pints Pilot Program: UNSUNG On The Fly
UNSUNG Enzo Italian Pilsner
5% ABV, 35 IBU
An Italian pilsner is a German pilsner with a greater emphasis on hops, including dry-hopping at the end of its brewing cycle. Pivo Pils, first brewed in 2013 by Firestone Walker Brewing Company in Paso Robles, California, is a legendary early adopter in this country. UNSUNG's version is brewed with Italian malt and dry hopped with Saphir and Hallertau Mittlefruh for floral notes and crisp bitterness.
UNSUNG Nebuloid Lagoon
8.5% ABV, 32 IBU
Urban Dictionary says "Nebuloid" is an object, person, place or thing that is ridiculously amazing or strange. Therefore, one could guess UNSUNG's Nebuloid IPA Series is ridiculously amazing or strange. We're placing Nebuloid Lagoon is the ridiculously amazing category. This hazy double IPA is brewed with Galaxy, Mosaic, and Azacca with a touch of Ekuanot Cryo, Cashmere, and Citra for fruity aroma with passionfruit and citrus swimming on the tongue.
UNSUNG Nebuloid Wolf Ray
7% ABV, 35 IBU
The hazy IPA lasers tropical fruit, citrus and Chardonnay into the nose thanks to a dry hopping with Nelson, Motueka, Citra, and Cashmere. It's a delicious juice bomb replete with notes of tangerine, grape, citrus, and tropical magic.

UNSUNG Nebuloid Conehead
8.5% ABV, 35 IBU
"Hear me, Earthlings: you are privileged," says Beldar Conehead. "When I was a small cone, my family lived in an isolated quadron. I had to walk ten dextrons, knee-deep in farlite-crystals each day, to a little drink station for crappy big beer. UNSUNG Nebuloid Conehead is superior. The hazy double IPA is brewed with Nelson Sauvin hops and backed up with Citra and Mosaic for dank citrus and lychee.
---