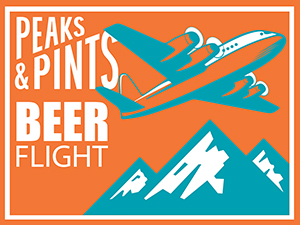 If you created a Venn diagram representing today's Peaks & Pints to-go beer flight, you'd have "Beer" in the first circle, "Milkshake" in the second circle, "Lassi" in the third circle, "Smoothie" in the fourth circle, and Peaks and Pints Pilot Program: Soda Fountain On The Fly in the center circle. Over the last 40 years, brewers have experimented with an array of flavors, processes and ingredients. They've turned classic styles into comfort foods such as pastry stouts or beer slushies. A growing trend in craft beer is the beer milkshake/smoothie/lassi. These beers are often with so much fruit puree that they look less like beer than something poured at the corner soda fountain. The brewing process varies, but basically wort is allowed to cool in the brew kettle. Then lactobacillus (a bacteria in yogurt, cheese and sauerkraut) is introduced. After a day or so, the mash becomes sour and the brewing process is restarted with enough heat to kill the bacteria. Lactose is added, which lends even more body. This beer is left unfiltered, further adding to its viscous appearance. Then a crap ton of fruit is added before packaging. Today, we offer a couple examples in said flight. Order up!
Peaks and Pints Pilot Program: Soda Fountain On The Fly
Sig Grandma Pat's Black Currant and Blackberry Crumble
6.1% ABV
"!!!DOES NOT CONTAIN LACTOSE!!!" OK, OK Sig Brewing! Still, Head Brewer Jeff Stokes' fruit beer tastes like a smoothie fruit pie. Stokes knows a thing or two because he's brewed a thing or two, including a bunch of milkshake IPAs when he was head brewer at Three Magnets. His Grandma Pat's Black Currant and Blackberry Crumble is brewed in the smoothie style — it's creamy with cinnamon and black currants leading the flavor profile over blackberry, graham cracker, vanilla, and brown sugar.
Imagine Nation Wavelengths
7.5% ABV
Milkshakes have now crept into our adulthood. Using Pectin, rich fruits, oats, and lactose to enrich the beer, Omnipollo and Tired Hands brewers were able to recreate the thick heavy and slightly creamy mouthfeel similar to a milkshake. While most brewers were running away from the idea of thickening their beers with adjuncts, these two milkshake pioneer breweries embraced the process and in doing so they created a beer subset that's as much a milkshake as it is a beer. Missoula brewery Imagine Nation joins the fun with their Wavelengths double dry hopped mango and papaya milkshake hazy IPA brewed with 6 pounds per barrel of Citra, Citra cryo, Simcoe, Simcoe cryo, Mosaic, Mosaic cryo, and Azacca, a ton of mango and papaya, and lactose.
Omnipollo Bianca Blueberry Blackberry Raspberry Strawberry Maple Pancake Lassi Gose
7% ABV
Speaking of Omnipollo, the Swedish gypsy brewery's latest gose is a strange one, but it works. Brewed with blueberries, blackberries, raspberries, strawberries, lactose sugar, vanilla, maple syrup and rock salt, this sour ale has the equivalent of more than 1,000 berries of fruit and one whole vanilla bean per beautifully decorated can. The blueberries appear on the palate, with maple flavor vouching for the "pancake" title. It's a sweet gose that could easily pass as a milkshake IPA.
---