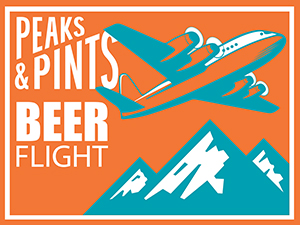 Today is Small Business Saturday, a holiday that encourages Americans to patron Main Street enterprises. While small businesses have been the backbone of the U.S. economy for decades, it's more important to support them now than ever before. The coronavirus has pistol whipped small businesses, many on life support. Peaks and Pints craft beer bar, bottle shop and restaurant is a small business owned by three lifelong Tacomans. Today, our small business celebrates other local small business by offering a flight of Tacoma craft beer, which we call Peaks and Pints Pilot Program: Small Business Beer On the Fly. For the most part, we suggest the beers that put each brewery on the map, with apologies to the other Tacoma brewers for which we currently don't have their beer in the cooler.
Peaks and Pints Pilot Program: Small Business Beer On the Fly
Sig Soup, Salad And Pilsners
5% ABV
This spring, Duncan Susag, brother Alex Susag and cousin John Samuelson opened Sig Brewing on the edge of Tacoma's Historic Brewery District, along Tacoma Avenue South in the building formerly occupied by Duncan's concrete design firm, Studio Make. Head brewer Jeff Stokes has been cranking out delicious craft beers, including their take on the hoppy Italian pilsner style, Soup, Salad And Pilsners. Expect expressive notes of sweet white breadsticks and a spicy/herbaceous finish from the hopping.
E9 Tacoma Brew
5.1% ABV
Columbia Brewing Co. brewed Tacoma Brew in the late 1800s in Tacoma's now Historic Brewery District. Beer made at the facility gained national attention for its flavor and smooth aftertaste in the early 1920s, prompting the brewery to double in size and increase capacity by the mid-1930s. Success at the plant got the attention of another brewery, Heidelberg Brewing Co., which purchased the Columbia plant in 1949 and set out for another round of remodeling. The facility was bought yet again a decade later by Carling Brewery, making it the only West Coast holding of the otherwise East Coast beer company. The brewery is long gone but Tacoma Brew, a Kolsch, is still being brewed. Tacoma's Engine House No. 9, now E9 Brewing located in Tacoma's Historic Brewing District, bought the recipe for the breweries' "Tacoma" brew and still serves it many, many years after the originating brewery held its last call. Tacoma's first beer has a medium body accentuated with crisp Northwest hops.
Narrows OCTO IPA
7.2% ABV, 72 IBU
July 12, 2013, Scott Wagner, Gordon Rush, Matt Smith, Thair Jorgenson, Chris Dewald, and others opened the 15-barrel Narrows Brewing perched on pilings above the Narrows waterway. As guests gazed at the 700 feet of guest docking below and beyond to the Narrows bridge, Joe Walts, former quality control manager at Ale Asylum Brewing in Madison, Wisconsin, brewed in the back. One of the first beers Walts brewed is the Giant Pacific Octopus IPA with Magnum, Columbus, and Willamette hops for a fruity, melon, and grapefruit flavor profile. Recently, new Head Brewer Matt Rhodes reworked the recipe (and changed the name), with 2-row as the base for a foundation of Centennial, Chinook and Columbus hops, and an ever-rotating modern dry-hopping, for a fruit-forward, soft West Coast IPA.
Wingman P-51 Porter
8% ABV, 31 IBU
The P-51 Porter was Wingman Brewers' first real beer recipe. "It goes back to 2008 when Derrick (Moyer) and I were home brewing," explains Thoburn. "At the time, Lazy Boy Porter from Everett was my favorite beer around, so we tried to emulate that. The beer was initially made for a friend's birthday and called Nalty's Tall Order Porter since he's a tall dude and asked us to make a Porter for his birthday party. The beer went over so well with our friends that it remains the only recipe we've never changed since Wingman started … with Washington-grown barley and Moxie valley hops."
Tacoma Broken Window IPA
6% ABV, 50 IBU
Morgan Alexander brewed beer in high school. He used Baker's yeast and apple juice, which Alexander says was horrible. He kept the lab coat on, home brewing with unusual ingredients for years before converting his beloved Tacoma Triangle District Amocat Cafe into Tacoma Brewing Company, a tiny taproom that he eventually abandoned for a ginormous space up the street. He kissed his front window on the way out. The window slot cost him a fortune, but he definitely made it back 10 fold. He renamed his Citra IPA "Broken Window IPA" after roughians shattered the glass enough times that Alexander started hosting fundraisers. Broken Window IPA went on to win award after award; it was worth the pane.
7 Seas IPA
5.9% ABV, 75 IBU
You can't talk local beer without mentioning 7 Seas Brewing. Founders Mike Runion and Travis Guterson have seen many changes since they declared their beer a ting in 2008. They now run two operations — a small-batch system taproom in Gig Harbor and a massive production plant in Tacoma's Historic Brewery District. Their IPA (formerly Rude Parrot) is a reliable, low ABV, well-balanced IPA. Brewed with Vienna, light Crystal, and a touch of Honey malt, this golden hued IPA is aggressively hopped with Nugget, Simcoe, Cascade and Citra hops. Checks all the boxes you'd expect from an IPA with pine and citrus notes in both the smell and taste. Taste is rich and full with sharp orange rind and grapefruit followed by a tropical coolness and an off dry, pleasantly bitter finish. It's an everyday IPA.
---
Category:
Beer Line Blog
,
Craft Beer
,
Critical Drinking
,
Events and Festivals
,
Houses of Craft
,
In The Cooler
,
Peaks and Pints Pilot Program
,
Shop
,
South Sound
,
Specials
,
Tacoma Strong