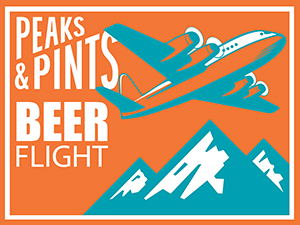 Jeremy Warren is widely admired for his mastery of hops, especially with his signature beer style, India pale ale. In 2012, Knee Deep Brewing Co. left Warren's garage in Sparks, Nevada, and exploded onto the scene when the brewery's Hoptologist won the prestigious Bistro Double IPA competition in Hayward, California, besting the legendary Pliny the Elder, among others. In 2015, Warren left everyone knee deep in tears when he departed the brewery. In March 2017, he and his head brewer, Jeb Taylor, opened Revision Brewing Company back in Sparks, Nevada. The brewery took a gold medal win for Revision IPA in the American India Pale Ale Category and DIPA won the silver medal in the Imperial India Pale Ale category at the 2018 World Beer Cup awards. Today, Peaks & Pints presents a flight of Revision hoppy and barrel-aged beers — a flight we call Peaks and Pints Pilot Program: Revision On the Fly.
Peaks and Pints Pilot Program: Revision On the Fly
Revision Filbert Fudge
12% ABV
The delectable nutty flavor of this imperial stout with whole toasted hazelnuts swirled with cacao and a touch of Madagascar vanilla creates an experience of a filbert-speckled bar of milk chocolate sweetness that melts in your mouth. It's really chocolate-y.
Revision Barrel-Aged Moving And Shaking
12.5% ABV, 45 IBU
This luscious imperial stout blend is aged extensively in bourbon barrels for 25 months, then treated with single-origin Ugandan cacao nibs and vanilla beans. Abundant oak character compliments hints of light caramel and brown sugar backed by notes of rich fudge and dark fruit.
Revision Riipin' And Revvin'
8.5% ABV, 65 IBU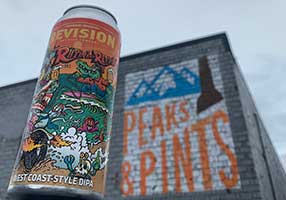 Brother-in-laws Ryan Rasmussen and Ryan Hopkins started Riip Beer Co. after brewing a batch of beer in a garage that they had received as a gift. The beer was so good that they decided to pursue their passion for beer by opening Riip Beer Co. in Huntington Beach, California. They started by delivering growlers and bottles out of a 1931 Helms Bakery Coach that they purchased from a friend. Team Riip traveled north to Sparks, Nevada, to collaborate on Riipin' And Revvin', West Coast-style double IPA brewed with Strata, Simcoe, and Mosaic for notes of sweet mango and diggity.
Revision Dr. Lupulin 3x
11.3% ABV, 133 IBU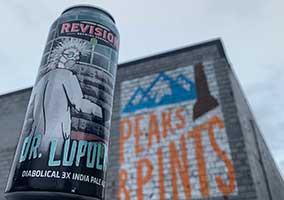 Dr. Lupulin swept the board at USA Beer Ratings 2021. It was awarded as Best In The Show By Country, Beer Of The Year, and Best Beer By Packaging. In addition, Revision Brewing Company has been awarded with Brewery Of The Year. When you visit the good Dr. Lupulin you'll notice it's somewhat of an anomaly brewed with loads of hops but is not too bitter. A high ABV brew that is easy drinking without excessive alcohol heat. Is that mango having a pleasant conversation with dank? Yep. The experiment to create beer perfection is alive.
Revision Hops In A Can
10.5% ABV
Revision's hazy triple IPA brewed with Citra, Simcoe, Amarillo, and Mosaic hops for sticky, resiny, sweet citrusy hop flavor.
LINK: Peaks & Pints cooler inventory
---