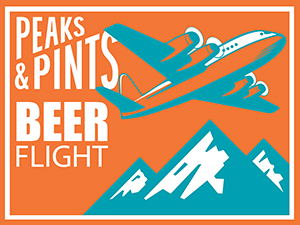 Englishman Adam Robbings' beer recipes had much success at homebrew competitions, including winning the silver medal at the National Homebrewing Competition in 2012, and his talent, along with a Kickstarter campaign that raised close to $11,000, eventually earned him, and his wife Grace, their own brewery — Reuben's Brews officially opened in Seattle's Ballard district in August 2012, which they named after their son, Reuben. Since then, the team has accrued an astounding number of accolades, including more World Beer Cup medals than you have fingers and toes. Today, Peaks & Pints presents a to-go flight of Reuben's beers — a flight we're calling Peaks and Pints Pilot Program: Reuben's Brews On The Fly. Happy 10th Anniversary Reuben's!
Peaks and Pints Pilot Program: Reuben's Brews On The Fly
Reuben's Fresh! Strawberry and Vanilla
4.8% ABV
Reuben's Fresh! series of heavily fruited kettle sour ales featuring dynamic combinations of fruits and flavors continues with Fresh! Strawberry and Vanilla for a sweet-tart juicy ale experience.
Reuben's Metamodern PNW Amber Ale
5.5% ABV
Reuben's Brews celebrates their 10th anniversary with 10 collaborations with important breweries, accounts, and individuals who have been critical to their success, and are releasing one collaboration each month. First up is a hug with fellow Seattle brewery Georgetown Brewing over Metamodern PNW Amber Ale a hoppy red ale. "Experience this meta take on what an amber ale could be if it was the dominant style of our era," states Metamodern hype.
Reuben's Robust Porter
5.9% ABV, 30 IBU
Adam Robbings developed his Robust Porter recipe using British malts particular to Windsor, about 25 miles west of London, where he grew up. Eight different grains are used to create this multiple award-winning beer, pouring a deep brown with a creamy tan head like it has some weight. Roast malts are the star in both aroma and flavor that's nutty and slightly sweet with an espresso bitterness balanced by a touch of creamy vanilla, chocolate, and caramel sweetness, without being cloying or off putting.
Reuben's Three Ryes Men
13.7% ABV
Three Ryes Men is Reuben's US Beer Tasting Championship Grand National Champion, Craft Beer & Brewing Top 20 of 2020, FoBAB Silver-winning, and GABF Bronze-medalist barrel-aged barleywine. The English-style barleywine is brewed with multiple types of rye and aged in whiskey barrels, featuring a full body with malt driven caramel and chocolate notes, and layers of warming complexity. Adam calls it a "liquified ROLO."
Reuben's Crush The Slopes
7% ABV
Cold IPAs seem to be a "hot" trend. They are made by taking an IPA and fermenting it with lager yeast at colder temperatures than would be used to make an ale. This can make them cleaner, with sharper hop character. Reuben's version, Crush The Slopes Hazy IPA, has a massive run of hops all hitting this beer on the cold side, providing a theoretical IBU of zero and extra expressiveness on the nose and special full-bodied juiciness.
Reuben's Bits & Bobs IPA 2022
7% ABV, 50 IBU
Every year Bits & Bobs showcases hops that Reuben's loves, that are new, or are new to them in unique ways. This year will give a focus to the HBC 1019 hop, which they have been sponsoring through Haas hops producer. Reuben's also added Michigan Chinook, Mosaic, Citra, and a touch of Columbus for fresh cut fruits, tropical candy, dank grapefruit, and a hint of sweetness on the nose, followed by loads of tropical fruit, particularly pineapple and sweet citrus, up front before a clean, crisp finish. The aroma is magical with fresh cut fruits, tropical candy, dank grapefruit, and a hint of sweetness.
LINK: Peaks & Pints cooler inventory
---