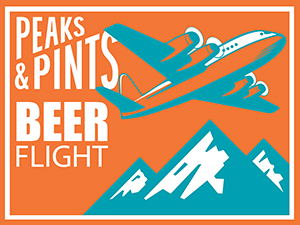 Former London-bound information-security architect Tommy Ortega, his wife, Elise Ransom Oretga, and several Ransom family members — including Tommy Ransom who was the real estate agent who found the Seattle neighborhood Ravenna location for the brewery — opened Ravenna Brewing on April 15, 2016 across from Ravenna Park. Ortega and Elise originally planned to call the brewery Ol Faithful Brewing after the couple's name for their home — a Craftsman in Fremont built in 1907. Tommy Ransom eventually became head brewer for many years, just recently turning over the head brewer job to Audra Johansen, the University of Washington master's degree in chemistry graduate who went on to brew at Urban Family Brewing and Big Time Brewery and Alehouse. Today, Peaks & Pints presents a to-go flight of Ravenna beer — a flight we're calling Peaks and Pints Pilot Program: Ravenna Brewing On the Fly.
Peaks and Pints Pilot Program: Ravenna Brewing On the Fly
Ravenna Lion Tamer
9% ABV
Ravenna Brewing almost never repeat recipes, opting to keep things fresh and interesting rather than risking taking away the luster from their favorites. Lion Tamer is an exception to that philosophy. Apparently, the Ravenna brewers dig it too much — and so does the public as it's Ravenna's most awarded beer. This porter's iteration was put into Heaven Hill Distillery barrels in late 2019 soaking up the bourbon vibes, softening with touches of oak, and maturing into a beautiful mix of coffee, chocolate, and vanilla.
Ravenna Luna Tequila Barrel Aged
11.2% ABV
Packed with vanilla, ancho chiles, and cinnamon, this smooth imperial stout brings a well-balanced punch of sweetness and warmth to combat the winter cold. Aged in reposado tequila barrels, the subtle hints of heat from the chilis and tequila marry perfectly with the spices and mellow sweetness of the malt.
Ravenna Paddle Partner
6.5% ABV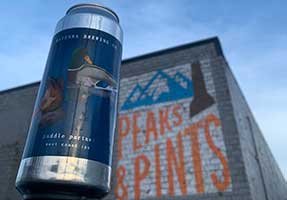 Move over Paddle Partner canoe and kayak app. There's a new Paddle Partner in town! Paddle Partner West Coast IPA became your new partner Jan. 7 when it was canned. Brewed with the classic IPA hop combo of Citra, Amarillo, and Mosaic, it yields a crisp and light palate, but with a bouquet of balanced pine and citrus.
Ravenna Polychromic
8.5% ABV
This imperial hazy IPA is brewed with a pile of Phantasm hops, some of New Zealand Nectoran and Motueka hops, and Yakima Valley's finest Lupomax Citra to create a ridiculously tropical adventure of a beer. Big fruit notes lay over the top of a wildly silky double IPA body, beginning with hints of guava and passionfruit and making way for a punchy citrus finish.
LINK: Peaks & Pints cooler inventory
---