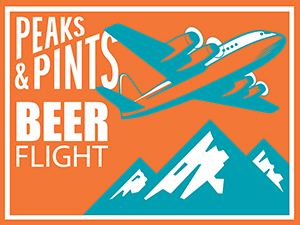 The Pacific Northwest is the most beautiful part of North America. Not only do we have mountains, but we have one of the tallest mountains in the contiguous U.S. We also have one of the wettest ecosystems and one of the driest. Not only does the Northwest offer so much on its own, but it has inspired humans in the area to do the same. We built botanical gardens, arboretums, scenic byways, and the Northwest India Pale Ale. The Northwest IPA fits very well into the American-style IPA category and focuses on American hops characteristics like big juicy citrus in the aroma and flavor that is often balanced by some sweet, caramel malt character. The Northwest IPA tends to be hazier, fuller bodied and have bigger malt backbones than the drier, less malty and less sweet West Coast-style IPA. Today, in sunny Northwest, Peaks and Pints suggests a to-go flight of Northwest IPAs, a flight we call Peaks and Pints Pilot Program: Northwest IPAs On The Fly.
Peaks and Pints Pilot Program: Northwest IPAs On The Fly
pFriem IPA
7% ABV, 65 IBU
Brewed on the banks of the great Columbia River with Gambrinus Canadian Pilsner, Simpsons Caramalt, Simpsons Crystal Light, and Simpsons Crystal Dark grains with Chinook, Mosaic, Citra, and Warrior hops, pFriem Family Brewers IPA sports huge hops aromatics, enough malt to balance the hops, and smooth finish with just enough bitterness, and brightness. It's a fresh, hops-forward, and fruity IPA with lots of citrus and easy to drink.
Kulshan Tree-dimensional IPA
6.8% ABV
Paying homage to the outdoor enthusiasts who join Peaks & Pints daily in Tacoma's Proctor District, our house IPA brewed at Kulshan Brewing is the perfect beer to toast the powder, currents or trails, as well as revealing the sprains. Tree-dimensional IPA, or Tree-D, continues our love affair with old school piney IPAs, this time brewed with Simcoe, Idaho 7, CTZ, Centennial, and whole leaf Cascade in the hop back for all the pine and citrus, plus creamy mouthfeel and slightly bitter finish.
Barrel Mountain No Bad Days
6.3% ABV, 55 IBU
Barrel Mountain Brewing's flagship IPA, No Bad Days is brewed with five malts and five hops to achieve a perfect balance. Crystal and Victory malts highlight the malt bill providing a sweet smooth body. Crisp clean bitterness is a result of the Newport bittering hop, while subtle notes of citrus and pine are derived from Columbus, Cascade, Chinook, and Citra hops. Named for having a positive outlook on life, No Bad Days is so Northwest.
Migration Straight Outta Portland
7.3% ABV, 69 IBU
Migration Brewing's bread-and-butter beer, this Northwest style IPA has plenty of hops but the firm malt body carries the day, providing a broad canvas that carries all the way through the flavor. Straight Outta Portland delivers a solid tropical melon and mango aroma, which follows into the taste with a good dose of pine. The semisweet malt lingers long into the aftertaste with good clean feel and crisp bitterness for an easy drinking IPA.
Georgetown Lucille
7% ABV, 85 IBU
When those first emerald green cylinders of Lucille IPA rolled off Georgetown Brewing's assembly line in May 2017, it heralded a new era for the brewery that gave us Manny's — cans. It's been a treat to drink the well-balanced Lucille IPA out of the can while mowing the lawn, enjoying the hop combination of the spicy fruitiness of the Amarillo hops, the intense citrus aroma with pronounced lemon notes of Centennial and piney Cascade hops on the finish. Lucille is hop-forward and floral, with the bitterness lingering in a very palatable way.
---