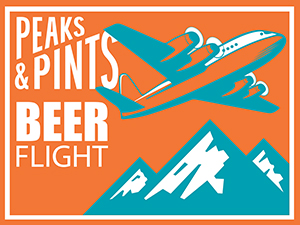 There are some hobbies better kept to yourself. You know, the ones you do alone in your basement late at night. And then there are some truly cool hobbies, like model railroads. These should be celebrated and dragged out in the open for all to admire. Which is why the 25th Annual Model Train Festival, downtown Tacoma's biggest model railroad exposition (considering, of course, the relatively small size of the subjects at hand because they are, of course, models), is being held through Jan. 2, instead of like, a half-hour. This gives you plenty of time to enjoy every floor of the Washington State History Museum filled with operating modular layouts. Museum occupancy will be limited. Purchase timed tickets in advance to guarantee a spot. Tickets will also be sold at admissions as capacity allows. Get all the details and book tickets at www.ModelTrainFestival.org. But remember to look both ways before crossing, and keep your pennies to yourself. Afterward, swing by Peaks & Pints and grab a to-go flight of holiday beer for tonight — a flight we're calling Peaks and Pints Pilot Program: Model Train Festival On the Fly.
Peaks and Pints Pilot Program: Model Train Festival On the Fly
Imprint Schmoojee Fireplace Stockings
6% ABV
On the Fifth Day of Schmoojee Imprint Beer Company gave to you — Fireplace Stockings at Peaks & Pints. That's right! The fifth mystery flavor is Pâtisseree Peach Banana Foster, or "Fireplace Stockings." Here's the deal: Peaks & Pints sold out of our Imprint Beer Company's 12 Days of Schmoojee mystery variety packs of heavily fruited smoothie sours. But, for those who didn't nab the mystery holiday packs, we are also stocking our cooler with a few individual Schmoojee cans from the 12 Days packs every day. As noted, Imprint's fifth of 12 reveals is Fireplace Stockings, a creamy, sweet smoothie sour with peaches and the softest rum-soaked bananas, plus a touch of brown sugar and cinnamon.
Brasserie Dupont Avec Les Bons Voeux
9.5% ABV, 28 IBU
In January 1970, Belgian brewery Brasserie Dupont needed a gift to dole out to key clients during the holidays. Key chains just weren't going to cut it. Since the brewery produces amazing ales they thought why not gift an ale: Avec Les Bons Voeux, which translates as "with best wishes." It blew minds. Dupont eventually released it commercially, albeit in limited quantities. A saison boasting a hefty 9.5-per-cent alcohol, it pours with a hazy tint and is almost buttery-smooth in texture. There's mellow fruitiness and yeasty bread flavor at its core, with lively clove and licorice notes folded in, set against a solidly bitter backbone.
St. Bernardus Christmas Ale
10% ABV, 28 IBU
Brouwerij St Bernardus is famous for both their beers and their heritage. The brewery used to brew the famous Westvleteren beers before the monastery returned all production back to within the abbey's walls.  Their Abt 12 quad represents what Westvleteren 12 used to be before the abbey changed their yeast strain. St. Bernardus' Christmas Ale is brewery's Abt 12 offering, but gussied up with rich malt, dark dried fruit, fig, hints of anise, nutmeg, cinnamon, brown sugar … basically a fruitcake.
Port Brewing Santa's Little Helper
9.9% ABV
Port Brewing's "winter warmer" appeals to those who just want a dark, strong imperial stout with hazelnut and coffee and not "holiday spices." This is one seriously thick, rich, naughty but nice beer with sweet hazelnut flavor.
LINK: Peaks & Pints cooler inventory
---