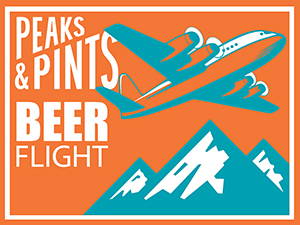 If you drink enough mocha, you will come to realize that some are indisputably better than others. But, once you account for differences in quality, you have to admit, there's a sort of sameness about them: espresso, bittersweet mocha sauce and steamed milk for a sweetly satisfying coffee. It almost makes you feel sorry for baristas. Why shouldn't they get to experiment with flavors the way brewers do? Brewers incorporate coffee in their brew in several ways: mixing beans into the malt build, infusing during barrel aging or straight up cut the beer with cold press. With so many kinds of coffee and beer and so many ways to commingle them, no two hybrids are created equal. With that in mind, we have selected five mocha beers for our to-go flight, Peaks and Pints Pilot Program: Mocha On the Fly.
Peaks and Pints Pilot Program: Mocha On the Fly
Firestone Walker Nitro Merlin Milk Stout
5.5% ABV, 27 IBU
Nitro beer was originally popularized as a way to mimic the classic British cask ale experience, which is known for delivering a thick creamy head and an ultra-smooth mouthfeel with less carbonation. When a nitro beer is poured, it is pushed through a dedicated "sparkler" nozzle on the tap that sheers the liquid and knocks the nitrogen out of solution. Firestone Walker Brewing Co.'s Velvet Merlin oatmeal stout transforms into a mindblowing mouthful when it becomes Nitro Merlin Milk Stout, at least to Peaks and Pints Office Manager Jess Madsen. Nitro Merlin is her favorite beer. She digs the milk sugar in the Nitro Merlin Milk Stout, which is similar to adding cream to dark roasted coffee, but it's an oatmeal stout with ribbons of French silk chocolate and mocha latte richness.
Grand Teton First Mug Mocha Porter
5% ABV
Like your first mug of coffee on a cold winter day, Grand Teton Brewing First Mug Mocha Porter will warm you up. This beer is brewed with fresh Alpine Air Coffee, locally roasted in the brewery's hometown of Victor, Idaho, with a 25 percent Ethiopian and 75 percent Columbia blend. Brewed with 2-row, Marris Otter, Chocolate Rye, CaraMunich 3 and Victory malts, expect With abundant chocolate, plum and coffee flavors.
Stone Xocoveza
8.1% ABV, 50 IBU
Stone Brewing hosts the American Homebrewers Association Rally — a people's choice-style homebrew competition at their annual AHA Rally in Southern California. During the Rally, attendees have the opportunity to sample beer from dozens of homebrewers and vote on their favorites. The winning homebrewer's recipe is replicated by Stone on a commercial scale, distributed around the country, and entered into the annual Great American Beer Festival Pro-Am Competition. In 2014, San Diego homebrewer Chris Banker won with what would eventually be named Xocoveza for the Holidays and New Year. The inspiration came from Mexican hot chocolate combined with coffee. This imperial mocha stout is brewed with coffee, pasilla peppers, vanilla, cinnamon, nutmeg and a generous amount of Stone's in-house made chocolate.
Epic Son Of A Baptist
8% ABV, 60 IBU
Epic Brewing's Son of a Baptist is a coffee imperial stout. It is not barrel aged like its father, Big Bad Baptist; instead its flavor profile is designed to highlight the complex and often unique flavors of small batch coffees. Peaks and Pints scored the Highwire Coffee Roasters version, which means the Oakland coffee company gave Epic their Bauhaus blend, adding bittersweet chocolate to the full and intense taste of dark malts and coffee.
The Bruery So Happens It's Tuesday
15.3% ABV, 22 IBU
Black Tuesday, Oct. 29, was the fourth and last day of the stock market crash of 1929. Investors traded a record 16.4 million shares. They lost $14 billion on the New York Stock Exchange, worth $205 billion in 2019 dollars. During the four days of the crash, the Dow Jones Industrial Average dropped 25 percent and investors lost $30 billion. Today isn't Black Tuesday, obviously, but rather it's Peaks and Pints Pilot Program: Mocha On The Fly and So Happens It's Tuesday bourbon barrel-aged imperial stout brings up the rear. The Bruery's So Happens It's Tuesday, the little brother to the Placentia, California brewery's momentous Black Tuesday Imperial Stout, named in honor of the great stock market crash of 1929. "So Happens It's Tuesday is similarly dark and delicious, but in a more affable format, reminding us that there is always a bit of good to be found within the bad," according to The Breury hype. Pouring silky black with a small tan head, this dark and delicious bourbon barrel-aged imperial stout is packed with dark roast malts that give a classical mocha coffee character with well-defined hints of plum and liquorice all enriched by sweet burnt sugar, a touch of vanilla, smoke, oak and, of course, bourbon. The tasting concludes with a beautifully judged bitterness.
---