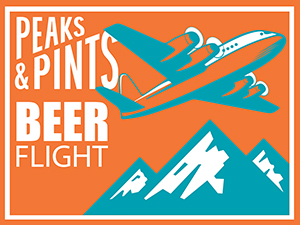 There was a time when beer was just called beer? You would order a light beer or a dark beer? Maybe ask for a sweet beer or a bitter beer. Although, during Oktoberfest, you'd order a clear, golden lager. And, before a Seahawks game, you tried something red and acidic at FX McRory's across from the Kingdome. What the hell was that? Nice work Charles Finkel! Then, in 1977, a man named Michael Jackson (two gloves, not just one) wrote a book called The World Guide to Beer. Combining the work of earlier authors with his own experiences, Jackson pretty much single-handedly created the concept of beer styles, constructing a set of parameters that could be used to categorize the disparate beers of the world. Beer was no longer just beer. In fact, you can thank him for the "Flemish Red" style name. Today, Jackson would have been 78 years old if he didn't die of Parkinson's disease on Aug. 30, 2007. In celebration of the beer hunter's birthday, Peaks & Pints presents a to-go flight of beers Jackson awarded five out of five stars, a flight we call Peaks and Pints Pilot Program: Michael Jackson On The Fly. Jackson awarded five stars is a beer was, "a world classic either because it has outstanding complexity and distinction or because it is the definitive example of its style, and no matter whether everyone is capable of appreciating it; some people probably don't like first-growth Bordeaux, either."
Peaks and Pints Pilot Program: Michael Jackson On The Fly
Paulaner Salvator
7.9% ABV, 28 IBU
Located in Munich, the Paulaner brewery officially started in 1634 when the Paulaner Monks of the Neudeck Monastery brewed this doppelbock was and drank it instead of food during Lent. Salvator has always been the flagship beer, although a few refinements have been made over the years. It is the industry standard and perfectly embodies this lager style that is often called "liquid bread." It's brewed with Herkules, Tauras, and Hallertauer tradition hops using Munich and Pilsner malts that flow sweetly across the tongue, brightened by green grape and cherry fruitiness. Beautiful bready aromas, with tinges of alcohol spiciness, waft enticingly, while alcohol lends a gentle warmth into the finish.
Brasserie Dupont Saison Dupont
6.5% ABV, 30 IBU
Saison may sound French in name, but the style actually originated in Wallonia, the French-speaking part of Belgium. Traditionally, saisons were brewed at the end of the winter season to last through the warmer months before refrigeration was common. Thus, the beer had to be sturdy enough to last for months but light enough that it could remain thirst-quenching and refreshing in the summer. They're now brewed year-round in tiny, artisanal breweries whose buildings reflect their origins as farmhouses — hence the saison's alias, farmhouse ale. Saisons are complex brews; most are fruity in aroma and flavor, contain lots of spice and earthy yeast tones, and are moderately tart. They also tend to be semi-dry with many only having touch of sweetness. If saisons were developed to be consumed by hard-working farmers, Peaks and Pints thinks we may need to become a hard-working farmer. Brasserie Dupont's Saison Dupont seems, at first glance, to be a simple saison. The complexities however, are nearly endless. There is an inherent sweetness that is counter-balanced by an earthy taste. Refreshing and subtly complex, Saison Dupont also refuses to disappoint with 6.5-percent alcohol.
Rodenbach Grand Cru
6% ABV, 35 IBU
Flanders red ale is a style of sour ale brewed in West Flanders, Belgium. Flanders red ale is aged in oak barrels with Lactobacillus and Brettanomyces that add yogurt tang and barnyard notes and Acetobacter, which is the bacteria that creates vinegar. Consequently, Flanders red ales have sharp acidic, vinegar notes. Coming out of west Flanders is the World Beer Cup gold medal-winning Rodenbach Grand Cru, a blend of "young" beer (33%) and an older beer (67%) that has matured in oak vats. It is the high percentage of the older ripened-in-oak beer that gives it the complex and intense bouquet with a very long aftertaste like a Grand Cru wine. The late Michael Jackson bestowed upon this beer the titles of "World Classic" and "the Burgundy of Belgium."
Fuller's ESB
5.5% ABV, 40 IBU
Fuller, Smith & Turner is a pub company based in Chiswick, West London, founded in 1845 and having been a family-run regional brewery until January 2019, when the brewing division was sold to Asahi. Now known as Fuller's Griffin Brewery, Georgina "George" Young, who started at Fuller's in 1999, was the first female head brewer in Fuller's 172-year history until she left this past spring to take the head brewing job at Bath Ales' brands, based at Hare Brewery. Anyhoo, Fuller's ESB is one of the most decorated ales of its time, is slightly stronger than the brewery's London Pride. Judicious use of caramel malts result in a reddish-brown color and toffee malt flavor. The aroma is biscuit and toffee coming from a fluffy cream-colored head. There is a bit of grassy hop bitterness in the background, allowing for the full malt flavor to shine. Add to this a solid mouthfeel and medium carbonation, and it's easy to see why this beer wins awards.
Anchor Brewery Anchor Steam
4.9 % ABV
The great-grandson of a home appliances magnate and the son of an Iowa dairy farmer, Fritz Maytag was intrigued upon hearing the 69-year-old Anchor Brewing Company was facing closure and thus up for sale in 1965. He purchased it for just a few thousand bucks. Anchor Brewing was perhaps the most primitive small craft brewery in the world, but by 1971 — the year it began bottling Anchor Steam beer — the San Francisco brewery kicked off the craft beer movement. Anchor Steam Beer derives its unusual name from the 19th century when "steam" was a nickname for beer brewed on the West Coast under primitive conditions and without ice. While the origin of the name remains shrouded in mystery, it likely relates to the original practice of fermenting the beer on San Francisco's rooftops in a cool climate. In lieu of ice, the foggy night air naturally cooled the fermenting beer, creating steam off the warm open pans. Northern Brewery hops are enjoyable in the flavor, but the rich, almost chewy malt is the best aspect of this brew. It's complex, rich flavor, deep amber color, and its thick, creamy head make it an instant classic.
---