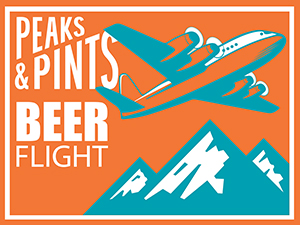 It's Maibock drinking season, at least according to the Germans. Since 1614, the first kegs are tapped at Munich's Hofbräuhaus during the last week of April as they bid auf wiedersehen to winter and welcome the warming days of spring with a lager strong enough to withstand cooler nights but aromatic enough to match the flowering trees and budding plants outside. Maibocks (mai-, pronounced "my," is German for May), like other bocks (stout lagers) are malt-forward, full-bodied beers with a stronger alcohol content (6.3 to 8.1 percent). But, unlike their darker brothers the dopplebock, Maibocks highlight floral hop characteristics that keep the sweet, malty experience light and bouncy. Because Maibocks came at a time when the availability of pale malts changed how brewers approached beer, you will occasionally find the term "Maibock" interchangeable with heller bock or helles bock (helle is German for bright). Since it's mid- April, Peaks and Pints presents a to-go Maibock flight we call Peaks and Pints Pilot Program: Maibocks On the Fly.
Peaks and Pints Pilot Program: Maibocks On The Fly
Rogue Dead Guy Ale
6.8% ABV, 40 IBU
Maibock is a lager that's customarily brewed in the dead of winter and aged until spring. The style tends to be a little lighter in color than traditional bock beers. Maibocks emphasize malt, and while some hoppy bitterness might be evident, it should not be assertive — just enough to lend crispness to the profile and especially the beer's finish. Rogue Ales' Dead Guy Ale has been around for a while, and to many people, it's the standard that all American-made maibocks are held to. Dead Guy Ale incorporates Rogue's proprietary Pacman yeast, and features Pearl and Sterling hops for a robust take on the classic German beer. Although the beer's missing the style's bread crust, the present flavors are harmonious: Bread with toasted edges runs over the tongue before orange notes pop up. Hefty bitterness chases the swallow while peppery alcohol prickles the sip front to back.
Block 15 Alpine Ibex
6.9% ABV
Block 15 Brewing's Alpine Ibex is a strong Maibock brewed with Hallertauer Mittelfrüher and Czech Saaz hops. It hits the nose with bready and lightly caramel malt, light grassy hops, lemon, and a touch of toffee, which is also the flavor plus honey, caramel, dried red berries, and floral elements. It's an interesting mixture of dry and semi-sweet flavors with light dry field herbs character, and hops on the finish.
Silver City Copper MTN Maibock
7.2% ABV
Silver City Brewery's Copper MTN Maibock is a traditional German-style lager celebrating the end of the harsh Alpine winter and the reemergence of the beer garden. Copper Mountain is a formidable, but approachable lager with a rich caramel sensibility encapsulated by a refreshing, easy-going texture.
Kulshan Shucks On The Beach
7% ABV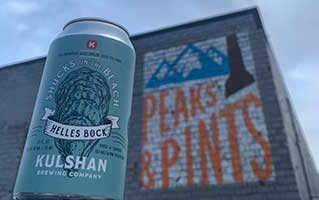 Kulshan Brewing and Taylor Shellfish Farms took a stroll on the beach and invented a helles bock, or Maibock, with German Pilsner and Vienna malts providing a rich, bready malt profile, coriander and pink peppercorns adding subtle fruity and spicy accents, and sea salt adding just the slightest hint of refreshing salinity.
LINK: Peaks & Pints cooler inventory
---