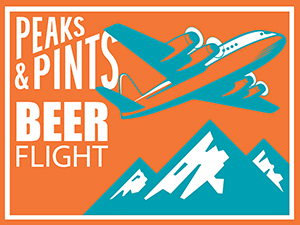 In 2013, co-founders Bill Arnott and Alex Brenner began brewing English style beers in a building that was once home to Seattle Brewing and Malting, which went on to become better known as the brewer of Rainier Beer. The duo bought Two Beers Brewing's 7bbl system and opened Machine House Brewery in Rainier Beer's "Malt House" in Georgetown. Before moving to Seattle, Arnott was head brewer at Tipple's Brewery in Norwich, England, which explains why Machine House focuses on true British "real ale" and cask ales hand-pumped into the pint glass, with only its naturally occurring carbonation, and at cellar temperature, rather than refrigerated. Stop by Peaks & Pints and grab a to-go flight of Machine House beers — a flight we named, Peaks and Pints Pilot Program: Machine House On the Fly.
Peaks and Pints Pilot Program: Machine House On the Fly
Machine House Nut Brown Ale
5.5% ABV
Machine House brews excellent cask ales, which are naturally re-fermented in the serving vessel and therefore don't carry the hefty artificial fizz of most modern beers. The cool "cellar temperature" they're served at also means these beers aren't ice-cold, which can put off unfamiliar drinkers but also allows fuller flavors and aromas to express themselves. That's all fine and dandy, but Peaks and Pints also has their Nut Brown Ale in our cooler. Smooth, flavorful, with the appropriate hop and roasted malt for the style, this ale reminds us of cracking open a freshly baked loaf of pumpernickel bread before a holiday meal.
Machine House Stinging Nettle Ale
5.4% ABV, 24 IBU
The weed stinging nettle (Urtica dioica) has bristly hairs that act as a hypodermic, injecting an irritant under the skin when touched. But why would you want to drink a weed, much less one that stings? Cooking removes the stinging effect of the leaves. Before the popularity of hops, stinging nettles were used in English beer as the main bittering agent. Ah, it all makes sense now. Every year, Machine House rides the ferry to Vashon Island, hand picks fresh young nettles, then adds them to malty wort in the brew kettle. The result is a delicious, spicy, and herbaceous ale.
Machine House Lil IPA
4.4% ABV
A collaboration session IPA brewed with Cloudburst Brewing, Machine House used Cloudburst's hopping techniques and water treatments and incorporated them into their unique English-style brewing methods to create a smooth, hazy session IPA with big hop character from Cloudburst's hand-selected Citra, Mosaic and Simcoe hops. Open-fermented, with one of their classic British yeast strains, Lil IPA is a fruity, juicy, floral side of hoppy with mild citrus plus a hint of herbal on the back end.
LINK: Peaks & Pints cooler inventory
---