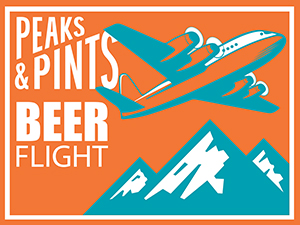 In December 2021, after 300 batches of homebrew, and countless building egress drawings, Nick Ladd and Jessie Quan, husband and wife, opened Ladd & Lass Brewing in Seattle's U-District. Housed in the former Floating Bridge Brewery spot on 45th Street near Interstate 5, which was also the former Rainbow Tavern where the Ramones and Soundgarden rocked the kids, the former architects opened with a pile of beer recipes and design chops. With T-shirts, albums, and newspaper articles from the glory days of Rainbow Tavern donning the walls, Ladd & Lass brew the full spectrum of beer styles — from lagers to hoppy libations to mixed-fermentation beers and everything in between. Today, Peaks & Pints presents a mini to-go flight of Ladd & Lass beers — a flight we call Peaks and Pints Pilot Program: Ladd & Lass Beer Flight.
Peaks and Pints Pilot Program: Ladd & Lass Beer Flight
Ladd & Lass Comet Sunset
6.6% ABV
The third release in their Sunset West Coast IPA series, Comet Sunset is a take on a modern West Coast IPA with 100 percent estate-grown Comet hops, an OG public hop varietal that expresses its unique terroir, from Crosby Farms in Oregon's Willamette Valley. Expect notes of melon, cantaloupe, and light tropical fruit.
Ladd & Lass Sunset Heart Hands
6.9% ABV
The inaugural release of their Sunset West Coast IPA series, Sunset Heart Hands is a hazy-ish IPA brewed with Citra Cryo, Mosaic, and Simcoe. Expect juicy citrus, low bitterness, smoothness, and some earthy notes.
Ladd & Lass Holographic Memory
10% ABV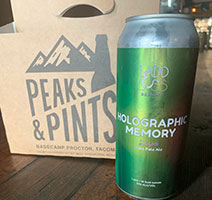 Brewed with an absurd amount of Centennial, Citra Cryo, Sabro Cryo, and Ekuanot Lupomax hops, this triple IPA is saturated with tropical fruity hops balanced against a luscious malt body.
LINK: Peaks & Pints cooler inventory
---