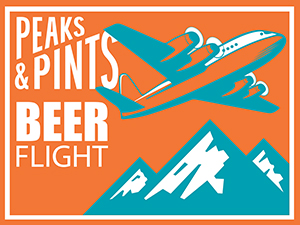 The metal movement has an outsider ethos and no-holds-barred authenticity that appeals to many brewers, including Grains of Wrath Brewery co-owner and Brewmaster Mike Hunsaker. Metal- and punk-loving Hunsaker cut his teeth as a homebrewer and by working for breweries in Chicago and Cleveland, before relocating to Portland in 2014 to become the head brewer at Fat Head's Brewery, where he became known for original West Coast IPA recipes. Fat Head's closed, which lead to Hunsaker opening his new punk and metal inspired 10-barrel brewery Grains of Wrath in Camas, Washington, with backers Brendan Greenen, Shawn Parker, and Brendan Ford. The former paper-mill in a gutted auto parts store turned brewery couldn't keep up with demand. In 2020, Hunsaker and crew then opened a 15-barrel steam system in North Portland, renaming the original brewery "Camas Gastropub." It's been a while, but Grains of Wrath, or GoW, ventured north to drop off goods at Peaks & Pints. In celebration, we present a to-go flight of Grains of Wrath that we're calling Peaks and Pints Pilot Program: GoW On The Fly.
Peaks and Pints Pilot Program: GoW On The Fly
Grains of Wrath Dive Bar Lager
4% ABV
Grains of Wrath Dive Bar Lager would have been perfect the perfect beer for the former The Friendly Duck's Decoy Room dive bar on South Tacoma Way. We would have planted out face inside a Dive Bar Lager while listening to the South Tacoma street creatures play therapist on each other beneath the duck decoys. One lone female bartender, three guys trying to deliberately sit apart (yet still talking to each other), pull tabs, a TV that everyone stares at but doesn't watch, and a clean, lightly sweet, highly refreshing Dive Bar Lager. Perfect.
Grains of Wrath Hail Santa! Worship Cheer
6.7% ABV
Santa Claus performs miracles and wonders every Christmas Eve. He can create and deliver virtually any present any child can imagine. He can fly through the sky and deliver these gifts to millions of children all over the world — all in one night. And not just any old presents but exactly the ones desired by each individual child. To accomplish this mission, he must have the ability to be present almost everywhere at once. Hail Santa! Grains of Wrath honors Santa with this spiced holiday ale made with cinnamon, allspice, ginger, nutmeg, and honey.
Grains of Wrath Dystopia
6.8% ABV
Assertive West Coast India Pale Ales still have their place, despite the growing popularity of the juicy tropical New England-style IPAs. India Pale Ales are medium-bodied, golden- to copper-colored beers that emphasize hops. Depending on the intent of the brewer and the variety of hops used, these beers can have herbal, piney, citrus, or other tropical fruit accents, or some combination thereof. The American West Coast IPA tends to focus on grapefruit/citrus and pine/resin bitterness that falls between 50-70 IBUs (International Bitterness Units) with a strength of 6.3-7.5 percent ABV, the style Grains of Wrath Dystopia embraces. Simcoe, Citra, and Mosaic hops combine for a sweet citrus nose, followed by solid citrus/tropical and pine, but it's not over the top in bitterness. We appreciate its assertiveness — yet it's not palate-wrecking.
Grains of Wrath Built For Speed
6.7% ABV
Built For Speed is founder and brewmaster Mike Hunsaker's West Coast IPA recipe that he's had in his pocket for a while. This light-bodied IPA hist the nose with orange, mango, melon, grapefruit, and pine. The palate opens bright and bitter with dank pine resin, grapefruit, and orange peel bitterness followed by bright melon, mango, and floral notes. This crisp, creamy IPA finishes dry with fruit and mild dankness.
Grains of Wrath Ripsaw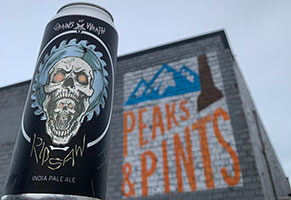 6.5% ABV
Early 2007, four Dutch heavy metal musicians from a small town called Nederweert formed Ripsaw. The band is heavily influenced by classic trash metal bands such as Sacred Reich, Slayer and the mighty Pantera. Since hops aren't a thing in the Netherlands, Grains of Wrath went south to New Zealand for hops for their West Coast IPA, Ripsaw. American hops are added for combined pungent and resinous notes of pine, tangerine, peach, strawberry, and gummy bears.
LINK: Peaks & Pints cooler inventory
---