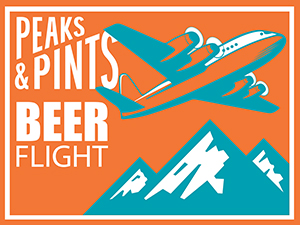 "Let every individual and institution now think and act as a responsible trustee of Earth, seeking choices in ecology, economics and ethics that will provide a sustainable future, eliminate pollution, poverty and violence, awaken the wonder of life and foster peaceful progress in the human adventure." So states John McConnell's original Earth Day proclamation. Peaks and Pints enjoys McConnell's Earth Day speech better than Agent Smith's line in the first Matrix movie where he stares menacingly at Morpheus and speaks about how every mammal on Earth instinctively develops a natural equilibrium with the surrounding environment, "but you humans do not. You move to an area, and you multiply, and multiply, until every natural resource is consumed. The only way you can survive is to spread to another area. There is another organism on this planet that follows the same pattern. A virus. Human beings are a disease, a cancer of this planet. You are a plague," and then Morpheus gets all huffy and righteous and goes on inspire Neo to prove how we are also full of beauty and fire and life and he makes it all better by saving humankind so we can go buy the mediocre soundtrack. Yes, indeed, today is Earth Day. Peaks & Pints suggests your treat yourself (and the environment) to a cold one from an eco-friendly craft brewery like the ones we're highlighting in our Earth Day to-go beer flight, Peaks and Pints Pilot Program: Earth Day On the Fly.
Peaks and Pints Pilot Program: Earth Day On the Fly
New Belgium Abbey
7% ABV, 20 IBU
New Belgium Brewing is a certified B Corporation and gets high marks for sustainability: Its Fort Collins brewery produces 18 percent of its electricity on-site, and the company has a wall full of environmental awards. New Belgium has also been generous in its contributions to bicycle- and eco-focused organizations. Abbey, a Belgian-style dubbel, was one of the first beers New Belgium released in 1991. Since then, it's become its most award-winning offering, and in 2015, it updated the recipe. This garnet brown hued Belgian-style dubbel is strong on character and rich in flavor. Seven malts, including caramel Munich and chocolate, and a definitive Belgian yeast, waft off sweet, spicy aromas. Rich tones of chocolate and dark caramel mix with nuanced dried cherries, burnt sugar and figs. Expect a sweet and roasty upfront, followed by a slightly bitter finish.
Double Mountain Pêche Cuvée
9.3% ABV
Double Mountain Brewery values sustainability, with the brewery's warehouse on the outskirts of Hood River boasting the largest solar array in the county. The brewery also has a refillable bottle program, has sold its spent grain to be used to make bagels in a local shop, and is making plans to capture and reuse its carbon dioxide. It's Pêche Cuvée is their Pêche Mode aged in oak barrels. The Belgian style sour ale is aged for nine months on Hood River peaches, our special house yeast, and Brettanomyces. Then, it's aged an additional year in French oak barrels. It hits the nose with prickly acidity, sour peaches, oak, and light white wine. The tartness isn't as strong as the nose would suggest. There's lots of macerated overripe juicy peach flavor, with a drying oak character, and a hint of white wine. There's a little bit of sharp Brett funk too.
Sierra Nevada Pale Ale
5.6% ABV, 38 IBU
Sierra Nevada, in Chico, California, doesn't kid around when it comes to greening its brewery. We've toured it. More than 10,000 solar panels and four 250-kilowatt co-generation hydrogen fuel cells provide the Chico facility with more than 50 percent of its electricity. They also operate their own CO2 recapturing and water treatment systems, they fuel up their beer delivery trucks with spent vegetable oil that converts to biodiesel in an onsite processor, as well as reuse, recycle or compost more than 99 percent of its solid waste and has restructured its packaging system for optimal efficiency and green return. Oh, and their Pale Ale is delicious hopped with generous quantities of Cascade whole cone hops for a fragrant bouquet and spicy flavor.
Alaskan Pilot Series: Imperial Oatmeal Stout
9% ABV, 45 IBU
Of course Alaskan Brewing Co. puts a strong emphasis on environmental awareness. The 49th state's premiere craft purveyor pioneered a CO2 reclamation concept that prevents more than 700,000 pounds of CO2 from going into the atmosphere every year, they donate 1 percent of all proceeds from the sale of their Icy Bay IPA to the Coastal CODE program, an organization dedicated to preserving ocean and waterway health, and developed a groundbreaking steam boiler that runs on spent grain. They also brew an imperial oatmeal stout that combines coffee and chocolate flavors and a smooth, creamy texture with a generous helping of oats.
Ninkasi Dawn of the Red
7% ABV, 66 IBU
The Sumerians worshipped Ninkasi around 3,500 B.C. and for good reason. She is said to have created the recipe for sikaru, or Sumerian beer. Ninkasi prepared beer daily for the other gods. Ninkasi's name means "the lady who fills the mouth" and her sigil was a barley spade. Ninkasi Brewing in Eugene, Oregon, is a warrior for the Earth, with initiatives to save and reuse as much water as possible. In addition to getting a portion of the energy needed to power their brewery and taproom from solar panels and buying carbon-offset credits to take care of the rest, they also source as many ingredients as possible from the surrounding region, use beer bottles made from up to 60 percent post-consumer glass, and back a whole host of worthy nonprofits through their long-running Beer Is Love program. Its Dawn of the Red India red ale is brewed was to make a super drinkable hoppy beer with a touch of caramel malt, some dryness and malt flavor into the finish.
---