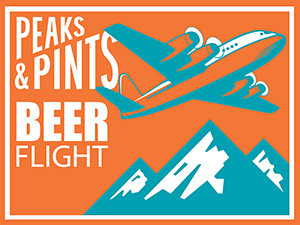 It's National Chocolate Milk Day! Oh, what a day! What a day! What a day! Chocolate milk, you see, is the way chocolate should be cosumed. Dark (or real) chocolate is disgusting and bitter and gross on the tongue. It is also pretentious and stupid. People who enjoy high-percentage cocoas are the most annoying people you will ever have the displeasure of meeting. They flock to dark chocolate the same way they do to bacon, pirates, and condescending prattle about how vegetables should always be crisp and barely cooked. The only cure for dark chocolate is, you guessed it, delicious chocolate milk. To celebrate National Chocolate Milk Day, Peaks and Pints aims our daily to-go beer flight, the best we can, at chocolate milk. We present Peaks and Pints Pilot Program: Chocolate Milk On The Fly.
Peaks and Pints Pilot Program: Chocolate Milk On The Fly
Lost Coast Peanut Butter Chocolate Milk Stout
5.6% ABV, 21 IBU
In 1986, Barbara Groom, a pharmacist, wondered what it would require to start a brewpub. After years honing her skills home brewing, planning and studying scores of pubs throughout England amd Wales Barbara was ready to transform the dream into a reality. In 1990, after purchasing the Pythian Castle, a 100-year-old building in Eureka, California, she opened Lost Coast Brewery and Café. Today, Lost Coast is the 41st largest craft brewery in the United States distributing its fine ales in 24 states and 22 countries. Lost Coast Peanut Butter Chocolate Milk Stout is an easy drinking dark beer, brewed with lactose to give a full mouthfeel and up-front sweetness. This creamy midnight black stout has rich layers of coffee, caramel, toffee, prunes, raisins, and roasted peanuts.
Blank A Round On the House
8% ABV
In 1987, Steve Hindy and Tom Potter, ignoring all sane advice from friends, and threats from the mafia, quit their day jobs and paved the way for New York breweries by opening Brooklyn Brewery. They didn't find success until they started their own distribution company, now known as the Craft Brewers Guild, and hired former Manhattan Brewing assistant brewer, Garrett Oliver. Today, there are many craft breweries calling Brooklyn home, including ______ Brewing, or Blank Brewing. Flying under the radar, this Brooklyn-based nano brewery brews delicious beers with 12 Percent Beer Project in New Haven, Connecticut. Blank's A Round On the House is a Cocoa Krispies-inspired imperial milk stout brewed with lactose and cocoa nibs.
Moonraker Shake This S'more
8% ABV
Moonraker Brewing Co. opened in 2016 in the same Auburn, California industrial park as Knee Deep Brewing, and was later honored as the ninth-best new brewery in the world by RateBeer, a resource for craft beer enthusiasts. Shake This S'more is a s'more-inspired imperial stout brewed with chocolate, graham crackers, vanilla beans, milk sugar, and sea salt. This can is nitro dosed, so for best results, shake the can a little and vigorously pour upside down into your glass.
Timber Ales Cosm of Darkness
12% ABV
The plaid-wearing outdoors enthusiast Jason Stein would leave his Upper West Side apartment in New York City and travel to Long Island to homebrew barrel-aged imperial stouts and barleywines in his parents' garage. Today, he'll brew his Timber Ales in Connecticut on 12 Percent Beer Project's big system. The Eighth State Brewing Co. helped Stein brew this sweet and smooth imperial stout aged on Ugandan vanilla beans and cassia bark before being canned for your enjoyment.
---