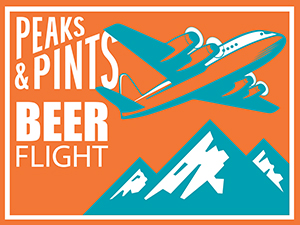 Let's trace the logic that finishes with Peaks & Pints' National Bittersweet Chocolate Day to-go beer flight, Peaks and Pints Pilot Program: Bittersweet On the Fly. Chocolate begins with the cacao tree, which grows in the tropics of America. The beans of this small evergreen are roasted, husked and ground into bittersweet (unsweetened) pure cocoa powder, which will lend a dark and bitter flavor to beer. Baker's chocolate is the same as ground cocoa, except that oils have not been removed for a solid "cake" of unsweetened bitter chocolate, which must undergo a long and vigorous boil time to volatilize the oils, otherwise the beer will suffer from poor head retention. These two types of bittersweet chocolate are most often found in bittersweet flavored beers. Let's get to drinking!
Peaks and Pints Pilot Program: Bittersweet On the Fly
Browar Witnica Black Boss Porter
9.4% ABV
Baltic porters are typically strong, sweet and bottom-fermented, which makes them lagers. They lack the powerful roast of an imperial stout, but have an intense malt character, big dark fruit flavors, and moderate to strong alcohol. Browar Witnica's Polish version pours a very dark brown — almost black. Port wine aromas of oak, cherry and raisins proceed flavors of caramel, raisins, sweet tobacco, and bittersweet chocolate. Licorice emerges as the beer warms, while roasty flavors rise in the back.
Cigar City Maduro Brown Ale
5.5% ABV, 25 IBU
Cigar City Brewing's Maduro is a Northern English-style brown ale with some American affectations. It's higher in alcohol than the common English brown ale and features flaked oats in the malt bill, which imparts a silky body and works to mesh the roasted, toasted and chocolate components together in Maduro's complex malt profile. The end result is a remarkably full-flavored yet approachable and sessionable brown ale with nutty malt flavors, punctuated by notes of coffee and cocoa with a dry, bittersweet finish. Pairs well with a cigar, obvs.
Rainy Daze Haulin' Oats
7.4% ABV, 35 IBU
Rainy Daze Brewing's velvety oatmeal stout hits the nose with dark toasted malt, cocoa, slight coffee and vanilla. The flavor is dark toasted malt with moderate char, coffee, baking chocolate and a touch of vanilla. It's a solid, roasty oatmeal stout with a medium body and moderate creaminess topped mild bitter chocolate notes and slight vanilla.
Oskar Blues Death By Coconut
6.5% ABV, 45 IBU
Oskar Blues Brewery's Death By Coconut is a standout Irish porter cold-infused with dried coconut. The coconut is steeped in the beer, tea-like, in large sacks as to get the aroma and creamy sweetness of the coconut into the beer. Death by Coconut's other essential ingredient is cholaca, a liquid bittersweet chocolate made with cacao and coconut sugar. The cholaca doesn't just gel with the porter and coconut, but it accentuated both aspects well. It's a rich, full-bodied chocolate coconut porter with toasted marshmallow notes too.
---